Kay Smith Receives OBU's Profile In Excellence Award
May 29, 2014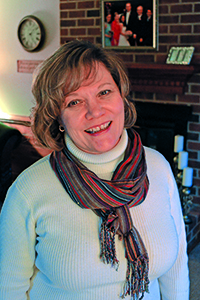 Editor's Note: Oklahoma Baptist University alum Kay Smith, a 1981 graduate, is a 2014 recipient of the OBU Alumni Association's Profile In Excellence Award. The award is given to a former student who has "demonstrated recognizable accomplishment in his or her profession, business, avocation, or life service in such a way as to bring pride and honor to the University." Each year, Profile In Excellence recipients are featured in OBU Magazine.
OBU alumna Kay Smith, a 1981 graduate, was recently named a 2014 Profile In Excellence Award winner. The award is given annually by the OBU Alumni Association to a former student who has "demonstrated recognizable accomplishment in his or her profession, business, avocation, or life service in such a way as to bring pride and honor to the University."
At age 13, Catherine "Kay" (Casey) Smith attended Mayfair Baptist Church near her home in Oklahoma City, where one summer day before leaving for Falls Creek church camp, her life was changed forever.
"I heard my mother and uncle talk about Falls Creek, and although I was shy and hardly knew anyone, I knew I wanted to go," Smith said. "That week Mrs. White, one of the adult women from the church, asked if I had ever asked Jesus into my heart. I told her, 'no,' so she brought me out to the dining hall where she and the pastor explained how I could receive eternal life. I was saved that night, baptized the following Sunday, and warmly received into my new church family."
Ladies in the church nurtured her through youth Bible studies, mission trips, Falls Creek and Acteens. As college approached, they urged her to seek the Lord's will for her college choice. It wasn't long before she contacted OBU and expressed interest in the nursing program.
"Juanita Millsap, then chairman of the nursing department, was one of the first people I met at OBU," Smith said. "She enthusiastically welcomed me. The nursing faculty desired to train nurses who could think critically and lead professionally. That has been invaluable throughout my missionary and nursing career."
"After graduation, I moved to Texas to begin my nursing career at Fort Worth Children's Hospital and to study at Southwestern Baptist Theological Seminary," she said. "My goal was to receive the 20 hours necessary to be appointed a career missionary with the Foreign Mission Board."
While in Fort Worth, Kay discovered a friend she had met her freshman year at OBU who was also studying at Southwestern. She and Elbert Smith, '80, soon were married and moved back to Oklahoma where Elbert pastored at Vivian Baptist Church in Eufaula. During that time, they returned to OBU every Monday to attend seminary extension classes on campus.
In 1984, they were called to the mission field and began planting churches in Mexico. They returned to the U.S. to pastor again in Oklahoma before moving to Indiana to plant churches. Their three children, Daniel, Katie and Carissa, were born during this time. In 1996, they returned to Mexico where they planted churches in Mexico City.
The couple transferred to South Asia until 2004, when they came to Richmond for Elbert to direct the training of new field personnel at the International Mission Board's International Learning Center (ILC). Kay soon began volunteering as a nurse at the ILC, became a part-time employee, and now serves in her position there full time.
"It's a great privilege to encourage those called to go," she said. "We provide travel vaccines and health information for personnel serving overseas. This is a great combination of mission service and nursing. The most rewarding part is serving alongside our personnel as they prepare to go to the nations."
"I came to OBU unprepared for Christian service, much less a career in nursing," Smith said. "OBU quickly introduced me to godly men and women who imparted spiritual truth, academic knowledge and the principles of the Christian life with me. While at OBU I met people with whom I maintain relationships today, people who have been influential leaders in my life."