Easttom Wins Scripps Howard Social Media Externship Grant
May 28, 2014
Holly Easttom, OBU assistant professor of journalism, was one of six members of the Association for Education in Journalism (AEJMC) to receive the 2014-15 Scripps Howard Foundation/AEJMC Social Media Externship Grant. The externship is a competitive program and includes many applicants across the nation. Past recipients have included New York Times correspondents, former CNN reporters and noted authors.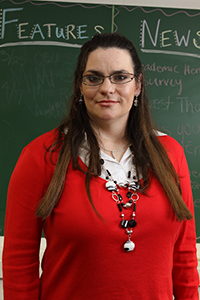 The grant allows professors to spend two weeks during the summer learning firsthand how newspapers and broadcast stations use social media across multiple platforms. Professors then take this knowledge into their classrooms while teaching during the fall and spring semesters.
Easttom will spend July 14-28 at WCPO-TV/WCPO-Digital in Cincinnati, Ohio.
A second phase of the program provides funds for a professional from the media outlet to visit that professor's campus for three to five days during the 2014-15 academic year.
The Scripps Howard Foundation provides $3,000 for each faculty member's travel, housing and other expenses for the two-week summer visit to the media outlet. The Foundation is also providing each media outlet professional $1,000 for expenses related to visiting the professor's campus.
The call for applications was issued in February and the selection process was completed in May. Applications were reviewed by a panel who scored the applicants based on the value and need of the program for the applicant, the impact of the visit on the applicant's home campus, the strength of ideas for the professional's visit and the overall quality of the application.
Easttom advises student publications at OBU and is a member of many professional organizations. She joined the faculty in 2001 after many years as a student and a writer and is an enthusiastic educator dedicated to "hands-on pedagogy" and instruction.
The Scripps Howard Foundation is the corporate philanthropy of The E. W. Scripps Company, which was founded in Cincinnati 133 years ago. AEJMC is a nonprofit, educational association of journalism and mass communication educators, students and media professionals. It was founded 100 years ago in Chicago by a group of 23 journalism educators and practitioners.