Symphonic Winds and Dale High School Band in Concert April 21
April 16, 2014
The OBU Symphonic Winds will perform a combined concert with the Dale High School Band on Monday, April 21, at 7:30 p.m. in Raley Chapel's Potter Auditorium on the OBU campus in Shawnee. The public is invited to attend this free event.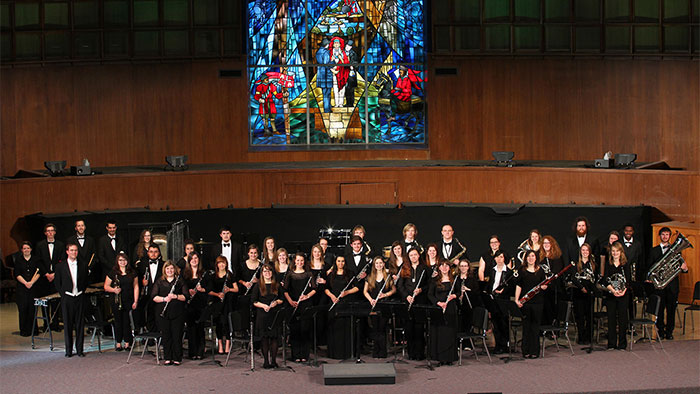 The Dale High School concert band is under the direction of OBU alumnus Nick Noble. The band will perform "Blue Ridge Reel" by Brian Balmages; "West Highland Sojourn" by Robert Sheldon; "Blue and Green Music" by Samuel R. Hazo; "Of Kindred Spirit" by Robert Sheldon; and "The Billboard March" arranged by Andrew Balent.
The Symphonic Winds' program includes a mixture of old and new music. They will begin with "Courtly Airs and Dances" by Ron Nelson, a suite of Renaissance dances based on characteristic dance styles from the 16th century. Next, they will perform "Night on Fire" by John Mackey, a contemporary piece, which premiered in May 2013. It utilizes multiple hand drums and harsh, biting winds to create an exotic, sometimes savage sound. They will continue with "Sinfonia for Winds" by Gaetano Donizetti, which demonstrates the roots of the modern wind ensemble. The Symphonic Winds will conclude the concert with "Vesuvius" by Frank Ticheli, which premiered in 1999 and is a large work for modern wind ensemble. This highly programmatic work uses a massive percussion section and many extended techniques to depict the eruption of Mount Vesuvius in 79 A.D., which destroyed the city of Pompeii.
The OBU Symphonic Winds is under the direction of Ryan Meeks, director of bands. Meeks served as director of bands for McLoud Public Schools from 2006-10. In that role, he conducted junior high and high school bands, arranged and transcribed music for all ensembles, taught private instruction of all instruments, and performed other duties pertaining to band activities. He also served as an assistant band director for Chisholm Public Schools in 2005. He served as an executive board member of the East Central Oklahoma Band Directors Association from 2008-10. He performed multiple times with the Oklahoma Opera and Musical Theatre Company from 2011-12, as well as the Oklahoma City Symphony Orchestra from 2011-12. He was awarded the Director Excellence Award by the Army All-American Marching Band in 2010.
Membership in the Symphonic Winds is open to all students of the university by audition. Comprised of the most accomplished instrumental musicians on campus, the Symphonic Winds maintain a strong commitment to performing quality wind band works of high artistic merit. Recent tours have taken the band to schools and churches in Oklahoma, Missouri, Texas, Arizona, Kansas, New Mexico, Colorado, Louisiana, Tennessee and Arkansas.
For more information on this concert or on OBU's Symphonic Winds, including audition information, concert bookings and schedule, contact the director at ryan.meeks@okbu.edu, or call (405) 585-4311.