Students Elect 2014-15 Student Government
April 15, 2014
OBU's Student Government Association hosted the annual Hyde Park Chapel on Wednesday, April 9, in Raley Chapel's Potter Auditorium on the OBU campus. The event introduced the student body to candidates for the 2014-15 student-elected school and class officer positions.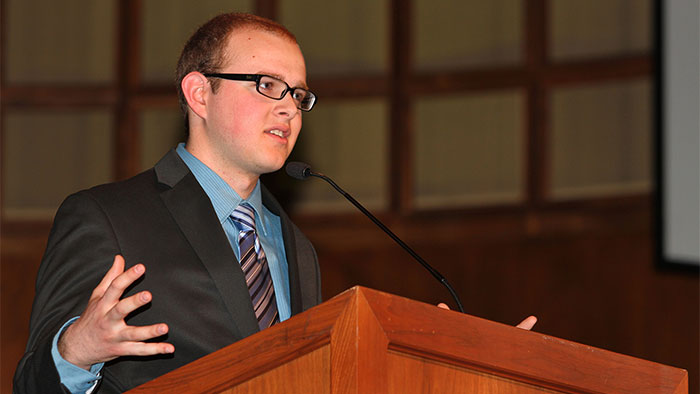 SGA president Cody Moser from Noble, Okla., gave a speech on involvement with the student body and his plans for the future. Moser ran unopposed for re-election as SGA president.
The event also saw a speech from rising senior Parker Hunt, of Cyprus, Texas. Hunt ran unopposed for the position of vice president of external affairs.
Lucas Adams, a rising junior from Oklahoma City, Okla., ran unopposed for the position of vice president of internal affairs. He also presented a speech during the Hyde Park Chapel.
Following the chapel, students were encouraged to vote for SGA candidates at a table in the Geiger Center. The table was equipped with multiple laptops and a tablet so that students could quickly vote electronically for their preferred SGA representatives.
Students elected to class offices include Khalil Benalioulhaj, senior class president; Allie Preston, senior class vice president from Abilene, Texas; Nolan Cannon, junior class president from Elgin, Okla.; Matthew Welborn, junior class vice president from Cache, Okla.; Taylor Wilson, sophomore class president from Noble, Okla.; and Benjamin Burke, sophomore class vice president from Edmond, Okla.
Freshmen class elections for president and vice president are conducted in the fall semester after incoming students have an opportunity to familiarize themselves with the campus community.
Seniors elected as student government senators include Karleigh Schrick from Montrose, Colo.; Matthew Smith from Shawnee, Okla.; and Megan Stein from Broken Arrow, Okla. Juniors elected as student government senators include Andrew Burroughs from Broken Arrow, Okla.; Travis DeWall from Enid, Okla.; and Rikki Earnest from Pampa, Texas. Sophomores elected as student government senators include Collin Brickhouse from Altus, Okla.; Brianna Copeland from Claremore, Okla.; and Truett Ross from Edmond, Okla.
Four senator-at-large positions will be elected during the fall semester.
Hyde Park Day was instituted at the university in 1958 after Dr. John W. Raley, then OBU president, visited Hyde Park in London, England. At "Speakers' Corner" in Hyde Park, anyone may set up a soap box and lecture on any topic. Spectators then are allowed to question the speaker. When the event started at OBU, based on the idea of free oratory, SGA candidates would gather in the Quadrangle on campus, set up "political booths" and vie for students' votes.