Shawnee Honor Choir in Concert May 4
April 22, 2014
The Shawnee Honor Choir will present its spring concert on Sunday, May 4, at 4 p.m. in Raley Chapel's Potter Auditorium on the campus of Oklahoma Baptist University in Shawnee. They will be joined by two other OBU preparatory choirs, the Discovery Singers and Concert Choir. The concert is free and open to the public.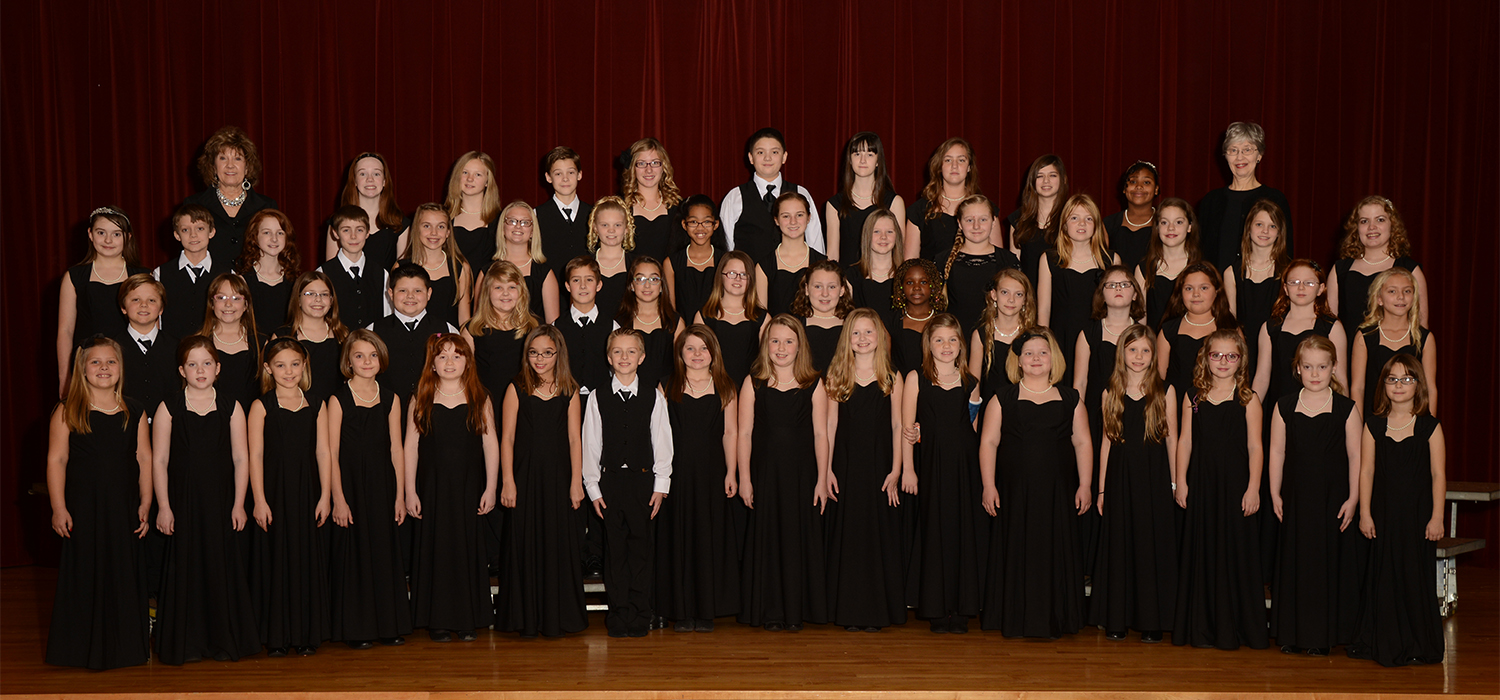 Shawnee Honor Choir is an auditioned choir of 60 third through eighth graders, representing twenty different schools in Shawnee and the surrounding area. The group is conducted by Conchita Hansford, OBU music preparatory department director and faculty member since 1990. Carol Ann Bell, retired piano faculty, serves as accompanist.
Shawnee Honor Choir performs in twelve schools annually, presents two formal public concerts each year and frequently performs at community events. The choir has performed five times at the Oklahoma Music Educators Association Convention in Tulsa. On Friday, April 25, the choir will travel and perform at Grove, Family of Faith and Will Rogers. On Tuesday, April 29, they will perform at Sequoyah, South Rock Creek and North Rock Creek.
The choir will open their performance with "Gloria Deo" by Cristi Cary Miller, an Oklahoma composer, followed by "Pie Jesu" from "Requiem" by Andrew Lloyd Webber and arranged by John Leavitt. Other selections include "Can You Count the Stars" by Jonathan Willcocks; "The Arrow and the Song" by Mary Lynn Lightfoot, based on a poem by Henry Wadsworth Longfellow; and "This Old Man" arranged by James Fulleylove. The final selection is "Jazz-Man," one of the very short pieces from Benjamin Britten's collection, "Friday Afternoons."
Orff instrumentalists will perform "Allegro" by Carl Orff. These students include Anna Sconyers, Brooke Bowman and Helena Todd, soprano glockenspiels; Kaitlyn Duran and Tommy Keller, soprano xylophones; Ethan Keller, soprano metallophone; Abigail Lilite and Catherine Burgess, alto xylophones; Olivia Todd, alto metallophone; Emily Day, bass xylophone; Noah Drew, bass metallophone; Angelina Ropp, bass bar; Julie Chance and Abby Aldridge, woodblocks; Devon Kreft and Corinna Rppp, hand drums.
Introductions to the choral works will be presented by Isabella Cangelosi, Victoria Hartel, Kaitlyn Duran, Mackynsie McKedy, Emily Day, Jacob Yoakum and Tyler Day.
At the end of the program, there will be an audience sing-a-long of patriotic songs accompanied by hand chimes. Hand chime performers include Alethea Anderson, Rose Anderson, Alyssa Baughman, Hannah Baughman, Anna Bond, Molly Bond, Baylor Brannon, Milea Budde, Andi Burgess, Isabella Cangelosi, Abby Canning, Trenton Cope-Ueltzen, Tyler Day, Madison Gardner, Jenevieve Gay, Camryn Green, Cadance Hannifan, Victoria Hartel, Hope Hartel, Allison Holter, Cambrie Kreft, Mary Lytle, Favor Mbote, Adriana McGehee, Bethany Newell, Emma Purvis, Chyanna Reece, Abby Smith, Jacob Yoakum and Breeanna Zarate.
Schools represented in Shawnee Honor Choir include Bethel Elementary, Bethel Middle School, Dale, Family of Faith, Grove, Home School, Horace Mann Elementary, Jefferson Elementary, Liberty Academy, McLoud Elementary, McLoud Middle School, North Rock Creek, Pleasant Grove, Prague Elementary, Prague Middle School, Russell Babb Elementary, Sequoyah Elementary, Shawnee Middle School, South Rock Creek and Will Rogers Elementary.
College student rehearsal assistants include Mary Kathryn Daugherty, Courtney King and Elin Williams, sophomore vocal music education majors. These students provide valuable assistance with sectional rehearsals on a weekly basis. Honor choir mom is Kellie Duran.
Auditions for new members for Shawnee Honor Choir and Concert Choir will be held Tuesday, May 6, 3:30-5 p.m. in Raley Chapel Room 141. For more information about OBU's Music Preparatory Department, visit the Prep Department webpage, call (405) 585-4329 or email prep@okbu.edu.