OBU-Shawnee Community Orchestra in Concert April 15, Featuring Gershwin's "Rhapsody in Blue"
April 7, 2014
The Oklahoma Baptist University-Shawnee Community Orchestra will hold its annual spring concert on Tuesday, April 15, at 7:30 p.m. in Raley Chapel's Potter Auditorium on the OBU campus in Shawnee. The event is free and open to the public.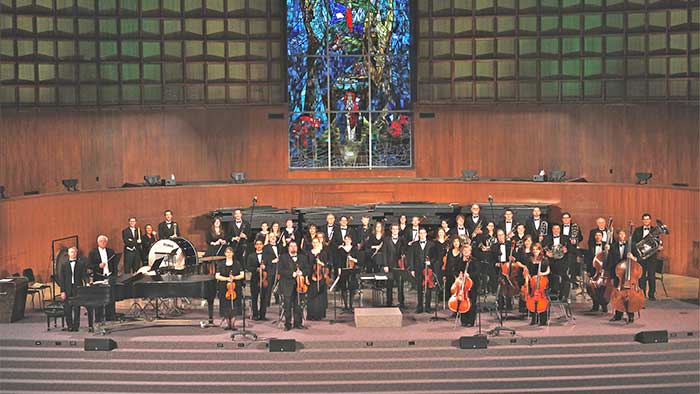 This year's program, titled "All Americana," will highlight the music of great American composers ranging from Aaron Copland to Cole Porter. The concert will feature a performance of Gershwin's "Rhapsody in Blue" by Dr. Ron Lewis, retired OBU piano professor, as well as performances by principal flutist and oboist Dr. Carlos Feller, Ms. Kaitie Bunch and Dr. Mary Chung, OBU assistant professor music.
The conductor of the ensemble is Dr. Jim Hansford, retired OBU Burton H. Patterson professor of music and former coordinator of instrumental studies and director of bands from 1990-2010.
"The music chosen for this year's program stands in stark contrast to what we usually program," Hansford said. "In general, it will be more accessible and user friendly to the layman and will spotlight a larger number of shorter works. There are no symphony movements, concertos, opera interludes or preludes," Hansford said. "Everyone in attendance should recognize a large portion of the melodies and tunes."
Lewis taught piano and served as keyboard chairman for 36 years in the OBU division of music before his retirement in 2006. This is the second time Lewis has performed with the orchestra. He has served as organist at First Baptist Church in Shawnee for almost 40 years, where he also conducts hand bell choirs.
The OBU-Shawnee Community Orchestra was organized in the fall of 2001 with the assistance of a grant from the Kirkpatrick Foundation in Oklahoma City. The grant became a reality through the work of Dr. Paul Hammond, former dean of OBU's Warren M. Angell College of Fine Arts. The ensemble is comprised of members both from the surrounding communities as well as OBU students, faculty and alumni.
Hansford, founding conductor and respected educator-conductor for over 45 years, remains active as a guest conductor, clinician, and adjudicator in public schools and churches in the Southwest. His teaching experience includes seven years in the public schools and 36 years at the university level including director of bands positions at Southeastern Oklahoma State University and Wayland Baptist University (Texas). Hansford served for many years as conductor of the Texas and Oklahoma Baptist All-State Symphonic Bands including tours to England and British Columbia and national trips to Boston and Phoenix.