Easttom, Students Travel to College Media Conference in New York
April 1, 2014
Holly Easttom and three students from OBU traveled to New York City for the 2014 College Media Association's National College Media Convention. Easttom is OBU's student publications advisor and assistant professor of news and information. She was accompanied by students Kathleen Thompson, Sophie Stanley and James Bacon. The event was held March 12-15 at the Sheraton New York Times Square Hotel. Over 1,200 attendees were expected for more than 250 sessions.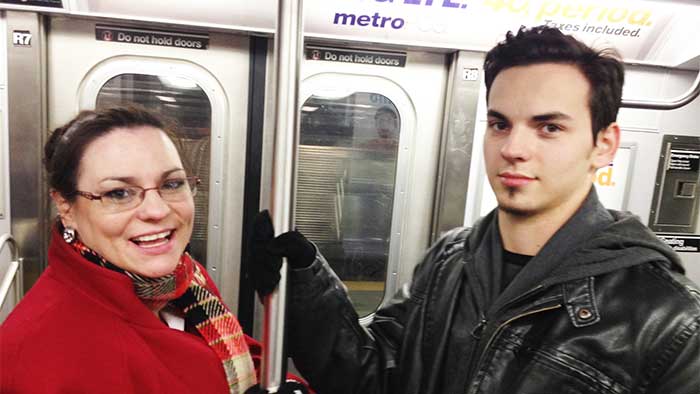 Easttom presented one paper and one design tutorial at the conference. Her paper concerned private university student press law versus public university law. She discussed ways in which audience awareness is misunderstood as content censorship. Her design tutorial offered tips for yearbooks under 200 pages.
"I'm very pleased with our group. I think we represented OBU well," Easttom said. "I think there is more respect now for the private Christian college presses in general, and OBU specifically."
Easttom also came away with plenty of ideas learned from other schools. "I came away inspired for redesigning the student newspaper," she said. "We are a good paper, and I received affirmation of that, but we can have a more modern design. We will get started on that soon."
Thompson is a senior news and information major, while Stanley is a junior news and information major. Bacon is an English education major with a news and information minor. The students qualified for the trip by creating presentations for a media panel at the conference.
"I asked my best writers to consider submitting an abstract for this conference and a media conference we attended in November, and the panel idea was accepted by College Media Advisors," Easttom said. "CMA is an amazing opportunity for any media student, and offers a great opportunity to make connections and learn their craft."
The group also had some time to take in the sights of New York. They visited Times Square, Central Park, went on a media tour, and much more.
For more information on studying news and information at OBU, call the college of fine arts division of communication arts at (405) 275-2850.