Business Students Earn Recognition on Capsim Business Simulation
April 23, 2014
Seniors in Oklahoma Baptist University's Paul Dickinson College of Business have again proven themselves among the best business students in the United States. Two teams of OBU students successfully completed the Capsim Business Simulation, both scoring higher than 95% of all other college and university teams nationwide.
Capsim Business Simulations engage participants in a dynamic competition to turn struggling companies into successful, profitable businesses. Classes are divided into teams that work together to focus on strategy, finance, production, marketing and all the key elements that interact to build their business. OBU's teams were divided into Team Baldwin and Team Chester.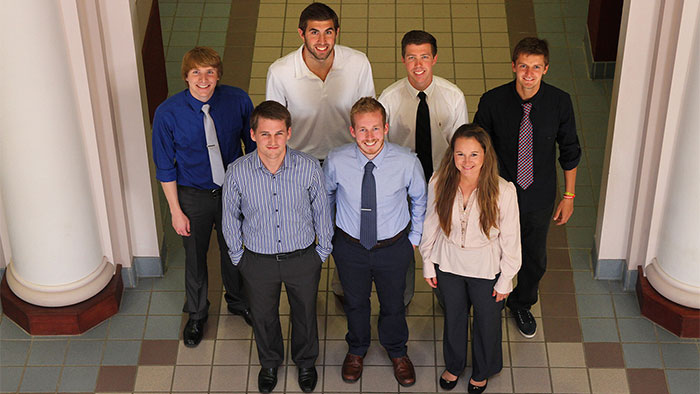 "The teams' scores are a testament to both the students' hard work and the quality of education they receive at OBU," said Dr. David Houghton, dean of the Paul Dickinson College of Business. "The strong performance in the Capsim simulation is affirming for both the students and the faculty."
This is the first time OBU has had two teams score at the 95th percentile or above. The teams competed against 4,296 teams from schools around the world including Auburn University, Baylor University, Brigham Young University, Duke University, Georgia Institute of Technology (Georgia Tech), University of Texas and Vanderbilt University.
"Our College of Business continues to demonstrate excellence and this national recognition particularly illustrates the keen decision making and critical thinking that typifies our business students," said OBU President Dr. David Whitlock.
The team members for Team Baldwin included A.J. Barbar, Corey Day, Lilian Ferreira, Michael Juliano, Dario Macanovic, Mickey Peercy and Caleb Stogner. Members for Team Chester included Fletcher Bennett, Tara DeWall, Christopher Ergenbright, Curtis Headrick, Cale Jackson, Kyle Kephart and Stefanie Madison.
"The teams' performances are indicative of the great work the Paul Dickinson College of Business faculty have done over the past four years," said Dr. Keith Harman, Ernest C. Wheeler Chair of Business.
Capsim Management Simulations is a global leader in developing and delivering business simulations that prepare practicing and aspiring business people to run profitable businesses. More than 550,000 participants at 500 schools and corporations have built their business acumen through Capsim learning experiences.
For more information on the Paul Dickinson College of Business at OBU, call 405-275-2850.