Bison Jazz Orchestra to Perform at Ritz Theater
April 25, 2014
OBU's Bison Jazz Orchestra will perform its final concert of the 2013-14 academic year Friday, May 2, at 7:30 p.m. in the historic Ritz Theater located in downtown Shawnee. This year's concert will once again serve as a fundraiser for the theater. Tickets will be sold at the door for $3.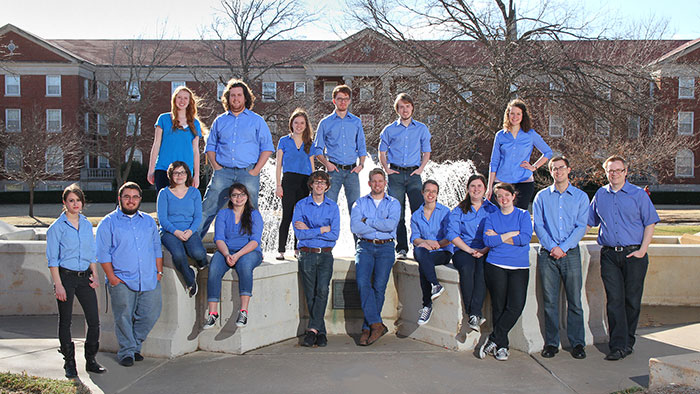 The Ritz Theatre, built around 1899 and originally constructed as a dry goods store, was the oldest and longest-running family-owned and operated movie theater in the state of Oklahoma when it closed in 1988. In recent years, the Society for Revitalization of Downtown Shawnee has opened it up for use as a performance venue.
The Bison Jazz Orchestra is under the direction of Dr. Kevin Pruiett, associate professor of music.
This year's concert will showcase a wide selection of big band music ranging from the swing of Count Basie to modern pieces written by Pat Metheny, an arrangement of a piece by Astor Piazzola, as well as an orchestral jazz work by composer Maria Schneider.
The evening will feature student vocalist Courtney King, a sophomore from Oklahoma City, on a number of songs. Senior tenor saxophonist Spencer Davis, from Pine Bluff, Ark., will be featured on a number of tunes throughout the evening including Pat Metheny's epic "The First Circle" and Fred Stride's "Among the Pyramids."
The evening also will showcase soloists Matthew Smith, a junior from Shawnee; Sadie Elliott, a junior from Oklahoma City; Lucas Adams, a sophomore from Oklahoma City; and Ellen Smith, a high school senior from Shawnee.
During the concert, the BJO Outstanding Jazz Musician Award will be given to the orchestra member who has "rendered the most outstanding service to the organization during the year." The award, voted on by the members of the ensemble, is the highest honor given to a jazz musician on the OBU campus.
The Bison Jazz Orchestra, an auditioned 17-piece jazz ensemble, is the premiere jazz ensemble of the Warren M. Angell College of Fine Arts Division of Music at OBU. Under Pruiett's direction, the Bison Jazz Orchestra performs a wide variety of big band repertoire ranging from music of the swing band era to contemporary big band works.
The ensemble performs regularly on the OBU campus and throughout the Shawnee community. Most notably, the BJO is the featured ensemble of the "Night of Jazz" concert series, a production in association with OBU's University Concert Series. In May 2008, the BJO traveled to Vitoria and São Paulo, Brazil, for a nine-day tour, and in May of 2010 traveled to João Pessoa and Natal, Brazil for a ten-day tour.
The OBU Division of Music offers degrees in performance, musical arts, music education, and a liberal arts degree with emphasis in music. For more information, contact the Division of Music at (405) 585-4301 or via e-mail to music@okbu.edu.