Bison Glee Club to Present Spring Concert April 22
April 15, 2014
OBU's Bison Glee Club, the premiere men's chorus on the OBU campus, will present its spring concert on Tuesday, April 22, at 7:30 p.m. in Yarborough Auditorium. The event is free and open to the public.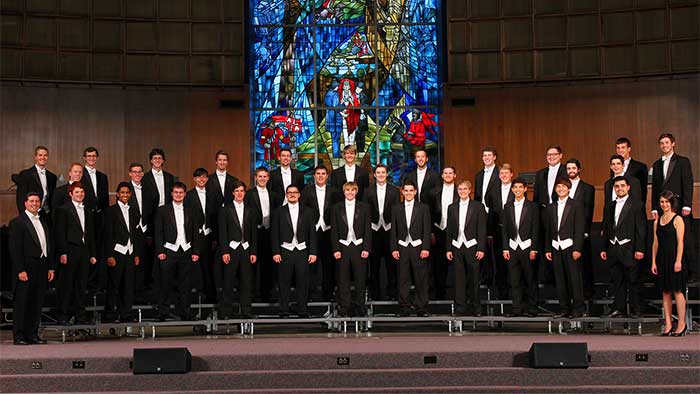 The group will perform many selections during the concert including songs such as "Hallelujah, Amen," "Song of Peace," "Toccata of Praise," "Betelehemu," "Loch Lomond," "O Susannah!," "The Music of Living," and many others. They will be accompanied by Sadie Elliott on piano.
The Bison Glee Club is under the direction of Dr. Brent Ballweg, director of choral activities. He received a bachelor's degree from OBU and a master's degree at Southwestern Baptist Theological Seminary. He earned his doctorate at the University of Missouri-Kansas City. Ballweg is an active guest conductor, clinician and adjudicator for various festivals, music contests and workshops across the country.
Founded in 1938 by Warren M. Angell, former dean of the College of Fine Arts, the Bison Glee Club is an auditioned group of the finest male musicians on the campus of Oklahoma Baptist University. The group has long been considered one of the premiere men's choruses in the Southwest and has toured extensively throughout the United Stated as well as in Canada, Europe and the Far East. Its annual season features a variety of performances including tour concerts, regular campus concerts, Homecoming Gala, Hanging of the Green, chapel events and numerous Oklahoma area appearances. They have also been featured as honor choirs for the Oklahoma Music Educators Conference and the Baptist Church Music Conference.
For more information about this concert or about The Bison Glee Club, including audition information, concert bookings and schedule, visit the Bison Glee Club Web page.