OBU Hosts Former Prosecutor Wes Lane for Minter Lecture
March 10, 2014
OBU welcomed Wes Lane as guest lecturer for the 2014 Minter Lectureship in Business, Leadership and Christian Ministry on Monday, March 10. Lane is a former Oklahoma County District Attorney. The event was held at 10 a.m. in Bailey Business Center's Tulsa Royalties Auditorium on the OBU campus in Shawnee.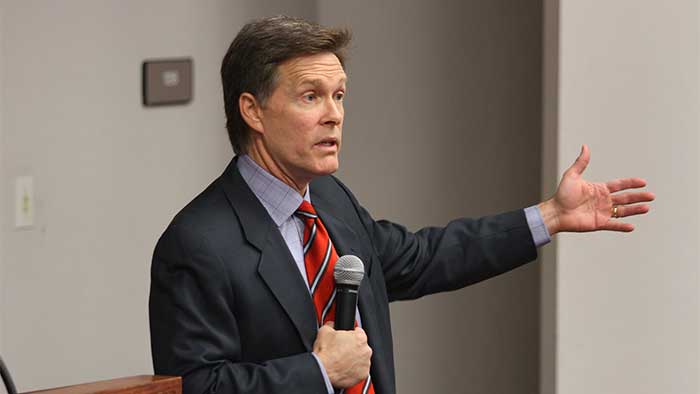 Born and raised in Oklahoma City, Lane received his undergraduate and law degrees from the University of Oklahoma and served over two decades as an Oklahoma County prosecutor. During his tenure, he accumulated an exceptional trial record, winning about 95% of his jury trials. His service to Oklahoma County began in January of 1981 as a law student legal intern for the Oklahoma County District Attorney's Office. In July of 2001, Governor Frank Keating appointed Wes to fill the unexpired term of retiring D.A. Robert H. Macy. Lane was re-elected in 2002, serving another four years in that capacity.
Honored as "Prosecutor of the Year" in 2003 by the Oklahoma Gang Investigator's Association and for "Courage in the Pursuit of Justice" by his fellow District Attorneys across the state, Lane served as president of the Oklahoma District Attorney's Association in 2005 and as vice president of the National District Attorney's Association.
In January 2008, Lane became president of the Burbridge Foundation, a Christian foundation dedicated to networking solutions to problems impacting families and culture. In early 2009, he brought to Oklahoma the methamphetamine television documentary "Crystal Darkness," which had between 1.5 and 2 million Oklahoma viewers and spawned community town hall meetings across the state on the subject of substance abuse prevention.
In the same year, along with other Oklahoma City leaders, he founded (and now leads) Salt and Light Leadership Training, Inc. (www.SALLT.com), a Christian leadership development program dedicated to helping Christian leaders maximize their service to God and their city. In 2010, he released "Amazingly Graced," -- an autobiographical account of God's purposeful activity in the marketplaces of our lives. From 2011-12, he served as chairman of the governing board of the state's largest agency, the Department of Human Services.
The theme of Lane's lecture was, "What does it look like to finish well?" He challenged students to find God's purpose in their life and dare to dream big about the impact they can make. "The reason so many Christians live lives of quiet desperation and go to the grave with a song still in us, is because we fail to come to terms with the purpose of God for our lives."
Lane said he realized God gave him a passion for helping Christian leaders. "I wanted to help leaders to stop looking at themselves as leaders who just happened to be Christian, but rather as Christian leaders assigned by God to their sphere of influence."
Speaking to future business leaders in the room, Lane said, "Your work is every bit as sacred as a pastor's. You're every bit as sacred as a missionary because you are one."
"The world is changed by remnants, for either good or for ill," he said. "When 10 percent of a population comes to a strongly held belief, everything changes. That's how culture is changed."
Lane talked about Christian leadership and the need for leaders to proactively dream big with God. "Ask yourselves, what impossible thing is He willing to do in our community?" he said. "You are a sent one. God knew you before the beginning of time. He is willing to do the impossible through you if you will dare."
"It is all your choice. It is all your decision," he said. "Are you going to step up? It will not be easy. You will face great opposition. You might even die. But the question becomes, will you finish well?"
The Minter Lectureship in Business, Leadership and Christian Ministry is intended to add a sound understanding of the business world to the educational experience of church ministry majors to broaden their ability to minister effectively. The Minter Lectureship was underwritten by 1940 OBU graduate Lloyd G. Minter of Bartlesville, Okla. The annual series began in 1991.
Minter built a successful 35-year career with Phillips Petroleum Co., rising to the position of senior vice president and general counsel before retiring in 1978. His desire to help OBU religious vocation students broaden their understanding of the business community led to establishing the innovative lecture series.
OBU annually has the largest number of religion majors among Southern Baptist four-year colleges and universities. The Minter Lectureship is designed to provide orientation and training for those students in the history and nature of the American economic system and to help the students understand and appreciate the business and professional community. In addition to equipping the students with business knowledge for the institutions they will lead, the Minter Lectureship promotes proper management of personal finances.
Minter, who earned a law degree at the University of Oklahoma, served as counsel for Boone, Smith, Davis and Hurst of Tulsa. He served five terms as an OBU trustee and two terms as a trustee of Midwestern Baptist Theological Seminary. Minter died Jan. 4, 2013, at age 94.