OBU Hosts Annual Green and Gold Gala, Raises Funds for Scholarships
March 6, 2014
OBU hosted the annual Green and Gold Gala Tuesday night, March 4, at the National Cowboy and Western Heritage Museum in Oklahoma City. Over 700 people attended the event which supports OBU students with scholarships.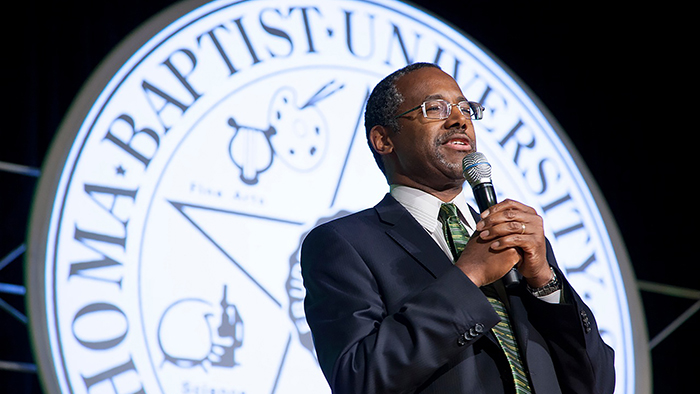 "Last year, 94 percent of all our students received some form of financial aid," said Will Smallwood, vice president for advancement at OBU. "Many students would not be able to attend OBU without the scholarships that have been provided by our generous donors. To continue to enable these students the opportunity to receive a Christian liberal arts education from a nationally-ranked university such as OBU, we work diligently to increase the scholarship funds we provide. The Green and Gold Gala is one opportunity for contributors to help meet students' needs."
News 9 anchor Kelly Ogle was the emcee for the event. "It is inspiring to see so many people supporting the education and experience that OBU offers," Ogle said. "Oklahoma Baptist University has many outstanding qualities, and we are pleased to see so many of you stand behind this excellence."
Ogle likewise recalled some of OBU's recent accomplishments, including seven NAIA national championships in the past five years, the opening of the OBU graduate school in Oklahoma City and the largest freshmen class in OBU history this fall.
OBU student Molly Munger led the gathering in the invocation, thanking God for the way OBU is changing her life and the lives of so many others. Munger is a sophomore psychology, pre counseling major from Harrah. She traveled to Africa with OBU's Global Outreach program in the summer of 2013 and has been approved to serve overseas through the program "Hands On."
OBU vocal group "Bison A Capella" then entertained the audience with three musical selections.
OBU President Dr. David Whitlock welcomed the crowd, thanking them for their continued support for scholarships. "I have the unique opportunity to speak to many groups about OBU, and I always stress to them, that what we do at OBU matters," Whitlock said. "As an important part of our community, what you do matters as well. Your generosity and support matters. It matters to our students, to our state, to our nation, to our world and it matters to the kingdom."
Whitlock also told the crowd that more missionaries are serving around the world today than from any other college or university in the world. "When you provide life changing transformational experiences for students, you also change the lives of everyone they come into contact with as well."
"Our mission is to transform lives by equipping students to pursue academic excellence, to integrate faith with all areas of knowledge, to engage a diverse world and to live worthy of the high calling of God in Christ," Whitlock said. "Our desire is to help every student who wants to attend OBU with the financial resources to do so. A great portion of this financial assistance is made possible by many of you in this room. Because of you, lives continue to be transformed on Bison Hill."
"Tonight, we celebrate the transformed lives and the difference OBU graduates are making literally around the world," he said. "God bless you. What you do matters. Thank you for supporting Oklahoma Baptist University."
U.S. Representative James Lankford then introduced the keynote speaker for the evening, Dr. Benjamin Carson. Lankford spoke highly of Dr. Carson, having met and worked with him in Washington. "We're incredibly grateful that he is here this evening, for his faith and his background. It's my honor to get a chance to introduce a husband, a dad, a doctor, a scientist and a researcher, an educator, and very importantly for us, a God follower. Ladies and gentlemen, please help me welcome Dr. Ben Carson," he said.
Carson is a world renowned author and neurosurgeon. He is an emeritus director of neurosurgery, oncology, plastic surgery and pediatrics at the Johns Hopkins School of Medicine, where he directed pediatric neurosurgery at the Johns Hopkins Children's Center for 39 years. In 2001, he was named by CNN and TIME magazine as one of the nation's 20 foremost physicians and scientists. In 2008, he was awarded the Presidential Medal of Freedom, the highest civilian honor in the land. Also in 2008, Carson was recognized by U.S. News & World Report and Harvard's Center for Public Leadership, as one of "America's Best Leaders." He has written several books, including his most recent, "America The Beautiful: Rediscovering What Made This Nation Great," which was released in 2012 and made the New York Times Bestseller List.
"I am absolutely delighted to be here," Dr. Carson said. "America is still a place of dreams. As a youngster, I dreamed of medicine. I loved anything that had to do with medicine. I loved to hear the mission stories in church that would frequently feature missionary doctors, who seemed like the most noble people on earth."
Carson shared his sense of humor with the crowd as he recalled his journey to becoming a surgeon. "I decided when I was 8 years old that I would become a missionary doctor," he said. "And that continued to be my dream until I was 13, at which time, growing up in dire poverty, I decided I'd rather be rich [laughter]. So at that point, missionary doctor was out and psychiatrist was in, because on TV they seemed like rich people [laughter]."
Carson planned on studying psychiatry until he was in college. "I believe that God gives everybody special gifts and talents." So, he started analyzing his life and realized he had hand eye coordination, the ability to think in three dimensions, and he rarely knocked things over and said "oops," which he jokingly said was a good characteristic for a brain surgeon.
He began in adult neurosurgery, but realized soon the rewards of working with children. "You can operate for 10, 12, 18 hours on a kid…and if you're successful, the reward may be 50, 60, 70 years of life," he said. "It's wonderful to be a part of healing."
Carson's message traced the history of his life and demonstrated the power of education in transforming lives to live out their potential. "I remember as a nine year old thinking I probably wouldn't live to 25 years of age," Carson said. His mother only had a third grade education, yet she challenged her children to be their best and pushed them to go above and beyond what school required. She even required them to read two books per week and turn in book reports to her on each.
Carson implored the audience to continue to learn something new every day of their lives and to seek knowledge daily. "When you become very knowledgeable, you become a formidable foe for falsehood and a formidable ally for truth."
Carson also spoke of the culture war and the attack on the Christian faith in America today, saying, "We have to understand that in our society there is a war on our Judeo Christian values. They want to kick God out of our country. That is a huge mistake, because He has played such a vital and important role in this nation."
"Those who like to rewrite history will tell you that the founders of our country didn't really have a relationship with God, didn't really believe in Him…they were just Deists. Well, you read their quotes and you'll see that is absolutely not true," Carson said.
Carson concluded his speech by charging the audience to have the courage to take action in the fight for our values and the fight to protect America from decline, saying, "The next time you sing the national anthem, and you get to the end of the first stanza, and it says 'The land of the free and the home of the brave,' just remember that it is impossible to be free without being brave."