College of Nursing Hosts Inaugural Advisory Board Meeting
March 14, 2014
OBU College of Nursing hosted its inaugural Advisory Board meeting Friday, March 7, on OBU's campus in Shawnee.
The meeting began with a group photo and lunch in the Geiger Center. Dr. Stan Norman, provost and executive vice president for campus life, greeted the attendees and gave opening remarks. Lepaine McHenry, dean of the OBU College of Nursing, then introduced the board members.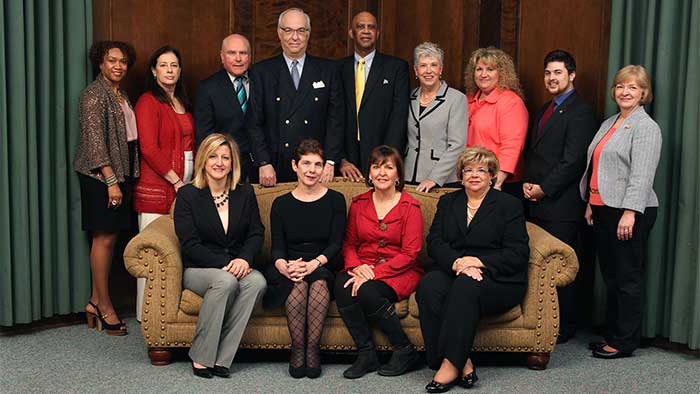 Pictured, standing, left to right: Dean Lepaine Sharp-McHenry; Cathryn Hibbs; George Gibbs; Larry Briggs; Lee Frazier; Pam Malloy; Lisa Morlan, vice-chair; Justin Wood, secretary; and Dr. Robbie Henson. Seated, left to right: Carol Bass; Dr. Rachel Gibbs; Bernadon Lester; and Linda Merkey, chair.
After a short break, Dr. David Whitlock, OBU president, formally welcomed the group. McHenry followed with an update of the current state of the college of nursing. The group then highlighted achievements with the faculty spotlight on Dr. Joe Rawdon and the student spotlight on OBU nursing student Melissa Hall.
The group then nominated and elected officers, followed by discussion of issues facing the College of Nursing. McHenry concluded with next steps, and the meeting adjourned.
The purpose of the advisory board is for members to be ambassadors for the college of nursing and utilize their expertise and insight to advance the presence of the college of nursing in the state, region and nation. Board members will also aid the dean in defining and realizing goals.
The board also provides a forum for communication among stakeholders, community members, organizations, government, education and alumni. Board members will likewise keep the college of nursing abreast of timely trends, changes and developments in healthcare to more quickly incorporate "real world" issues into the curriculum.
Members will serve a two year term, which may be renewed indefinitely. To be eligible for membership, members must be a key stakeholder in the healthcare industry, government, education, business, organizations, alumni or community. The board will meet twice annually.
The advisory board consists of the dean of the college of nursing, the associate dean of the college of nursing, and selected members. The members include Oklahoma Representative Justin Wood; Carol Bass, Realtor with Prudential Carolyn Harris Realty in Shawnee; Lisa Morlan, Director of Nursing at Gordon Cooper Technology Center; Linda Merkey, vice president of patient care services at Integris Health; Cathryn Hibbs, CEO of Deaconess Hospital; Pam Malloy, ELNEC project director at AACN; Bernadon Lester, OBU Nursing alumni; George Gibbs, attorney with Gibbs, Armstrong and Associates; Dr. Rachel Gibbs, Warren Clinic obstetrics and gynecology; Larry Briggs, president and CEO of First National Bank and Trust; and Lee Frazier, CEO of Valir Rehabilitation Hospital.