Bisonettes to Debut New Musical Work by OBU Composer and Poet
March 4, 2014
OBU's Bisonette Glee Club, under the direction of Dr. James Vernon, will perform a new 15-minute work April 29 in Raley Chapel's Yarborough Auditorium on the OBU campus. The work, scored for women's choir, brass ensemble and piano, will be performed by OBU faculty and students. The concert, titled "Ladies Sing the Blues," is free and open to the public.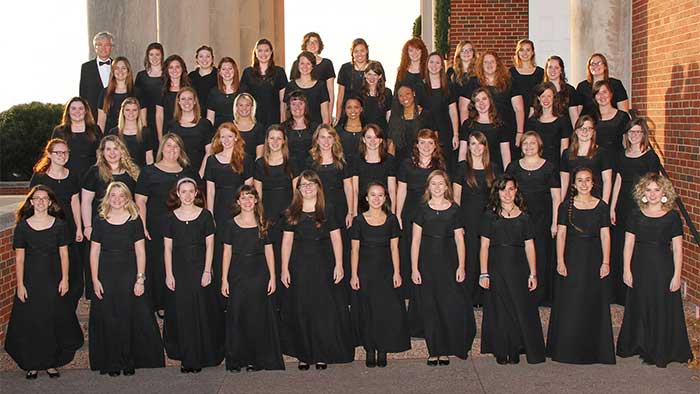 The new work, titled "Elegy for Trains," is an original musical composition Dr. James Vernon, using the poetry of OBU professor Dr. Benjamin Myers. Myers, Crouch-Mathis Professor of Literature, published his first collection of poems, "Elegy for Trains," in 2010. The collection was immediately welcomed in the literary community, winning the 2011 Oklahoma Book Award for Poetry and receiving favorable reviews nationwide.
The title poem from this collection has been set to music by Vernon, who serves the university as a professor of music. The poem is in the first part of a collection titled "Genealogy." This collection includes 19 poems, depicting a variety of themes, scenes and narratives, but centered on the poet's Oklahoma roots, growing up in Chandler. In "Elegy for Trains," the poet laments the passing of the great age of the locomotive and evokes the childhood memories of trains and their presence in his life. In this lament, he evokes the musical form of the blues, with reference to the great early blues legend Robert Johnson as well as other musical references.
"These references inspired me to compose music that honors this blues legacy, while simultaneously incorporating more classical modes of composition styles such as minimalism (the repetition of simple musical rhythms and melodies) and an elaborate formal structure serving as the basis for the composition," Vernon said. "I wanted to write music that evoked both the overt and the subtle effects of train sounds on a young person growing up beside a railroad track and styles that honored the blues legacy of the poetic devices Myers has beautifully portrayed."
The Bisonettes, OBU's women's glee club, was founded in 1954 by Warren M. Angell, former dean of the College of Fine Arts. Membership in the group is by audition. The group performs at a wide range of campus events and off-campus concerts, including an annual tour of churches and schools. The repertoire of the group represents a wide range of compositional styles in both sacred and secular music as well as showcasing choral standards, traditional numbers and contemporary compositions.
Additional information about The Bisonettes, including audition information, concert bookings and schedule by contacting the director at james.vernon@okbu.edu or by calling (405) 585-4325.
The poetry collection "Elegy for Trains" is published by Village Books Press (2010). Dr. Myer's newest collection of poetry, "Lapse Americana" (2013) is published by New York Quarterly Books. Both volumes are available at the OBU Bookstore or from online sources. For more information about this and other concerts, contact the Division of Music office at (405) 585-4301.