University Ringers to Present Concert at FBC Moore March 2
February 18, 2014
The University Ringers from OBU, an auditioned handbell ensemble, will present a mini-concert and lead worship during the evening service at First Baptist Church of Moore, Sunday, March 2 at 6 p.m. Dr. Kevin Clarkson, pastor, will be preaching. The University Ringers are under the direction of Dr. Lee Hinson, OBU professor of church music.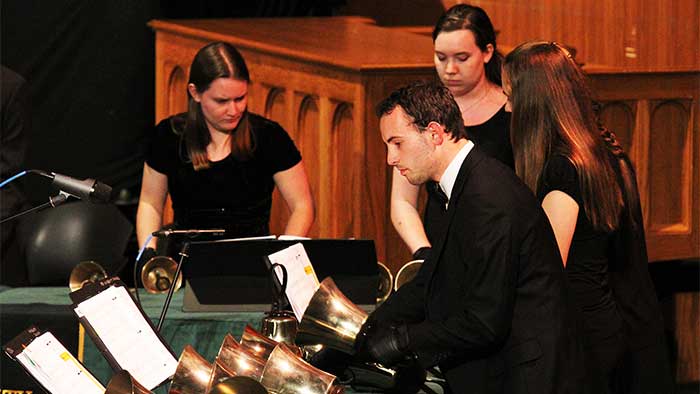 The concert will include works such as Cynthia Dobrinski's "Joy and Elation," "Holy, Holy, Holy," Chris Tomlin's arrangement "Amazing Grace (My Chains are Gone)," "He's Got the Whole World in His Hands," and "Breathe on Me, Breath of God."
Founded by Mary Kay Parrish in 1982, the University Ringers have had a history of bringing handbell music to audiences all over the United States and Europe. Dr. Hinson began directing the ensemble in 2007. In recent years they have performed in Missouri and Illinois, in addition to churches in Oklahoma, as well as high-profile performances on campus such as the annual Hanging of the Green and OBU's Homecoming Gala. One of the current goals of the group is not just ringing music in concert, but to introduce creative handbell playing to student participants and audiences.
Hinson earned a bachelor's degree at Baylor University. He earned masters' degrees at East Texas State University (now Texas A&M - Commerce) and Southwestern Baptist Theological Seminary. He earned his doctorate at New Orleans Baptist Theological Seminary. Hinson is a member of the American Choral Directors Association, American Guild of English Handbell Ringers, Southern Baptist Church Music Conference, Singing Churchmen of Oklahoma and The CenturyMen.