Joseph and the Amazing Technicolor Dreamcoat' Opens Feb. 20
February 11, 2014
OBU's Theatre Department and Division of Music will begin performances of "Joseph and the Amazing Technicolor Dreamcoat." The premiere is Thursday, Feb. 20, at 7:30 p.m., in Shawnee Hall's Craig-Dorland Theatre on the OBU campus.
Other performances will be presented Feb. 21 and 22 at 7:30 p.m., Feb. 22 at 12:30 p.m., and Feb. 23 at 2:30 p.m. "Joseph and the Amazing Technicolor Dreamcoat" is most appreciated by audience members ages 5 and older.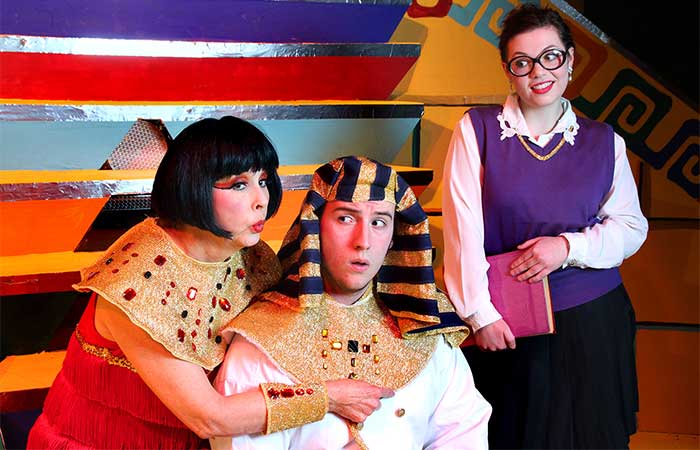 Written by Tim Rice and Andrew Lloyd Webber, "Joseph and the Amazing Technicolor Dreamcoat" is a comedic portrayal of the classic Bible story of Joseph. His father's favorite son, Joseph is sold into slavery by his jealous brothers and taken to Egypt. Joseph endures a series of adventures in which his spirit and values are vigorously challenged. Set to an engaging cornucopia of musical styles, from country-western and calypso to bubble-gum pop and rock'n'roll, this Old Testament tale emerges both timely and timeless.
"I am excited to fulfill a career-long dream of directing my favorite Bible story, Joseph," said Dr. Jeffrey Wells, OBU associate professor of theatre and director of the production. "The writing team of Rice and Webber has brilliantly set this story to music in a way that highlights the messages of forgiveness, redemption and providence, whilst simultaneously charming the contemporary audience."
The performing narrators include: Joy Knight, a senior vocal performance and English major from North Richland Hills, Texas; Hannah Helbig, a freshman music composition major from Claremore, Okla.; and Breana White, a senior musical theatre major from Broken Arrow, Okla.
The cast includes Blake Randolph, a freshman Bible and philosophy major from Goddard, Kan., as Joseph; Dr. Paul Hammond, former OBU Dean of the College of Fine Arts, as Jacob; Dr. Debbie Blue, OBU Dean of the College of Science and Mathematics, Potiphar's wife; Dr. Peter Purin, OBU Assistant Professor of Music Theory, as Butler; Stephen Kerr, a senior theatre major from Moore, Okla., as Naphtali and Potiphar; Jonathan Brown, a junior theatre major from Yukon, Okla., as Issachar and Baker; and Brayden Lans, a junior psychology pre-counseling major from Fort Collins, Colo.
The cast also includes Conner Gilbert, a freshman theatre major from Shawnee, Okla., as Judah; Mason McCormick, a sophomore church music major from Midwest City, Okla., as Reuben; Ben Whitmore, a junior nursing major from Shawnee, Okla., as Levi; Drew Bowsher, a freshman worship arts major from McKinney, Texas, as Dan; Dakota Unruh, a sophomore worship arts major from Elk City, Okla., as Benjamin; Edward Sanders, a freshman from Shawnee, Okla., as Simeon; Tim Farris, a freshman Bible major from Sioux Falls, S.D., as Gad; and Charles Jackson, a freshman special and elementary education major from Keller, Texas, as Asher.
The production director is Dr. Jeffery Wells, associate professor of theatre. The musical director is Dr. Mark McQuade, assistant professor of music, with Julie Purin as choreographer and Conner Gilbert as assistant choreographer. The technical director is David Kenworthy, assistant professor of theatre and design technician, with set design by Julie Studstill, makeup design by Avery Ketchum, costume design by Sarah Morris, and lighting design by Tim Frymire. The stage manager is Kendra Watkins, with Evan Tansey and Samantha King as assistant stage managers, and prop design by Trevor Rodman and Greer Garland. The house manager is Tony Quintana, with Rachel Lowe as the assistant house manager. Public relations manager is Evan Tansey, with Cierra Cyphers as the box office manager.
Tickets are on sale for the OBU community and the public. General admission is $5 for students and $13 for adults. Tickets are available through the OBU Box Office, located in Sarkeys Telecommunication Center, or by calling 405-585-4350. The Box Office is open from Monday-Friday, 9 a.m.-4:30 p.m.