Chorale to Perform at Council Road, Bethany March 2
February 24, 2014
The University Chorale, one of Oklahoma Baptist University's premiere vocal ensembles, will perform at Council Road Baptist Church, Bethany, Okla., on Sunday, March 2, during the 9:15 a.m. and 10:45 a.m. worship services. The community is invited to attend. The church is located at 2900 N. Council Road, Bethany, OK 73008.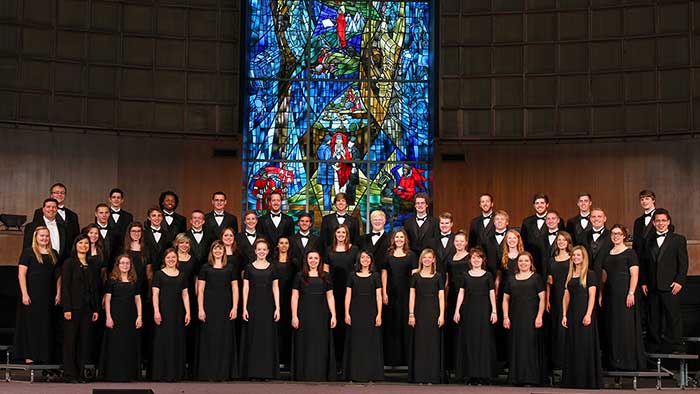 The Chorale is under the direction of Dr. Brent Ballweg, Burton H. Patterson professor of music and director of choral activities at OBU. He received a bachelor's degree from OBU and a master's degree at Southwestern Baptist Theological Seminary. He earned his doctorate at the University of Missouri-Kansas City. Ballweg is an active guest conductor, clinician and adjudicator for various festivals, music contests and workshops across the country.
Since the University Chorale's founding in 1963, the group has been comprised of outstanding singers on OBU's campus, selected by audition. The choir's primary purpose is to "present advanced choral literature to the OBU campus and community."
University Chorale maintains an active performing schedule throughout the state, region and on campus. Among its noted performances, the Chorale has made appearances at the Church Music Workshop at the Southwestern Baptist Theological Seminary, Oklahoma State Youth Choir Festival, the Oklahoma Music Educators Association In-service Workshop, and the Southwestern Division Convention of the American Choral Directors Association. Recent tours have included California, Colorado, Kansas, Missouri, New Mexico, Oklahoma and Texas.
Visit the Council Road Baptist Church website, or call (405) 789-3175 for more information.
For more information about the University Chorale, call the OBU Division of Music at (405) 585-4301.