Annual Concerto-Aria Set for Feb. 16, Public Invited
February 10, 2014
OBU's 40th annual Concerto-Aria Concert will feature the musical gifts of 10 students who will perform with a full orchestra Sunday, Feb. 16. The concert will begin at 7:30 p.m. in Raley Chapel's Potter Auditorium on the campus of OBU in Shawnee. The public is invited to attend the free event.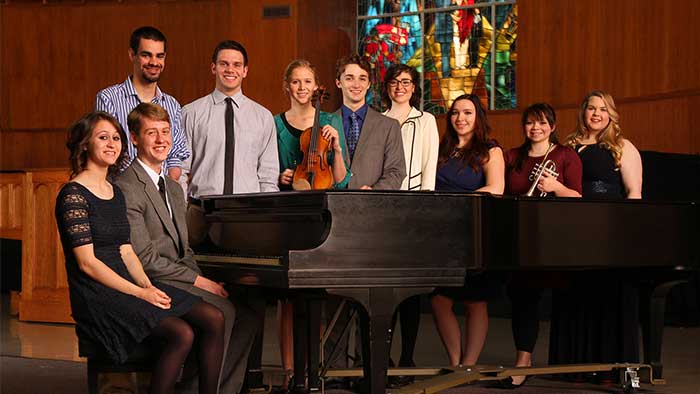 Student soloists are selected by audition. This year's concert will feature ten OBU student performers. Sammy Andrews, junior musical arts major from Checotah, Okla.; Sadie Elliott, junior musical arts piano performance major from Oklahoma City; Morganne Garcia, senior music education major from Rogers, Ark.; Graeson Griffin, sophomore musical arts in piano major from Shawnee, Okla.; Benjamin Hopkins, junior vocal performance major from Bartlesville, Okla.; Joy Knight, senior vocal performance and English major from North Richland Hills, Texas; Bailee Rogers, junior vocal performance major from Bixby, Okla.; Victoria Christine Smith, sophomore musical arts major from Frisco, Texas; Michael Wilson, sophomore, music composition major from Yukon, Okla.; Elizabeth Youngblood, senior vocal performance major from Midwest City, Okla.
Dr. Ken Gabrielse, professor of music and dean of the Warren M. Angell College of Fine Arts, will conduct the performance.
A pre-concert lecture will be held at 6:30 p.m. in Raley Chapel room 203E. OBU music students will introduce the selections to be performed during the concert along with background information to assist the audience in listening to the event.
For more information about the Concerto-Aria Concert, contact OBU's Division of Music at (405) 585-4301 or music@okbu.edu.