Bisonettes to Sing in Harrah Feb. 9
January 20, 2014
OBU's Bisonettes, a premier women's glee club, will perform a concert at First Baptist Church in Harrah, Okla., on Sunday, Feb. 9, at 10:30 a.m. The public is invited to attend the free event.
First Baptist Church is located at 2185 Church Street, Harrah, OK 73045.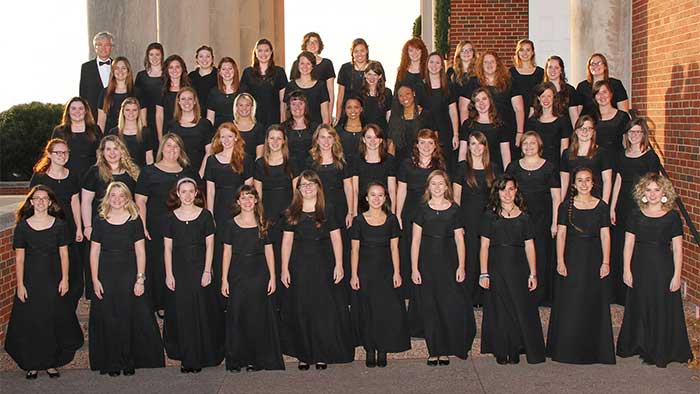 The Bisonettes, OBU's Women's Glee Club, was founded in 1954 by Warren M. Angell, former dean of the College of Fine Arts. Membership in the group is by annual audition; this year's membership includes students from Oklahoma, Texas, New Mexico, Arkansas, Arizona, Kansas, Colorado, Minnesota, Missouri, Iowa, and Illinois. While music majors comprise a majority of the singers, the group is represented by a wide group of non-music majors, including nursing, graphic design, biblical languages, psychology, biology, and English.
The Bisonettes are under the direction of Dr. James Vernon, Professor of Music. He has composed works for instrumental, choral and vocal idioms, as well as music for stage play productions. His compositions have been performed throughout the United States and parts of Europe. He is a member of the Society of Composers and the College Music Society. He also serves as an accreditation visitor for the National Association of Schools of Music.
Vernon earned degrees from Old Dominion University in Norfolk, Va., and Southwestern Baptist Theological Seminary in Fort Worth, Texas, where he completed the doctor of musical arts degree in 1990. He has completed additional study at the University of North Texas.
The Bisonettes will perform their spring concert on Tuesday, April 29, at OBU's Yarborough Auditorium. This concert will feature the premiere of "Elegy for Trains," a 15-minute work for women's choir, brass ensemble, and piano composed by Vernon, using poetry by OBU poet-in-residence Benjamin Myers, OBU Professor of Literature. The poem is from Myers' 2010 publication "Elegy for Trains," published by Village Books Press and winner of the 2011 Oklahoma Book Award for Poetry. Accompanists for this concert will be Taylor Thompson and Megan Mattke.
Also featured on the program will be a variety of works, sacred and secular, including OBU premieres of "Songbird" by Sarah Quartel and "Cripple Creek," arranged by Tom Porter.
For more information about First Baptist Church, Harrah, call (405) 454-2441 or visit the FBC Harrah website.