Bison Glee Club to Sing in Chandler Feb. 9
January 23, 2014
Bison Glee Club, an all-male choral group, will perform at First Baptist Church of Chandler, Okla., on Sunday, Feb. 9, at 10:45 a.m. The community is invited to attend.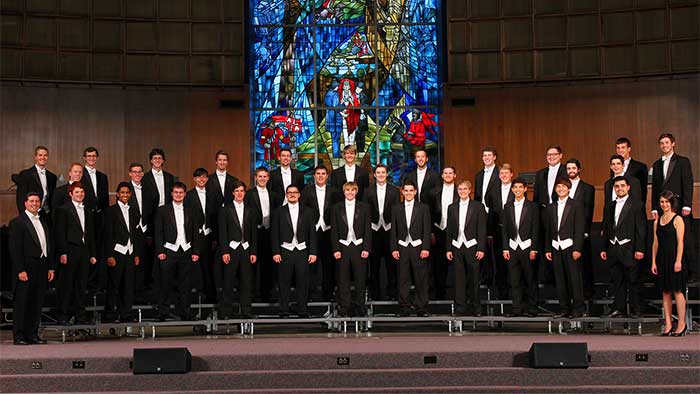 The Bison Glee Club is an auditioned group of outstanding male musicians on the OBU campus. The group long has been considered one of the premiere men's choruses in the Southwest and has toured extensively throughout the United Stated as well as in Canada, Europe and the Far East. They have been featured as an honor choir for the Oklahoma Music Educators Convention and the Southern Baptist Church Music Conference.
The Glee Club is under the direction of Dr. Brent Ballweg, director of choral activities. Ballweg is the Burton H. Patterson Professor of Music in the Warren M. Angell College of Fine Arts, where he teaches courses in conducting. Prior to coming to OBU, he held college and university conducting positions in Oklahoma, Texas, Arkansas, Arizona and Missouri, and he has served as the artistic director and conductor of the Plano (Texas) Civic Chorus, assistant director of the Kansas City Symphony Chorus and founder and director of the Northeast Arkansas Chorale.
For more information about the Bison Glee Club or to purchase CD recordings, contact the OBU Division of Music at (405) 585-4301.
For those interested in attending the performance, the address for First Baptist Church of Chandler is 912 West First Street, Chandler, OK 74834.
Visit the FBC Chandler website or call (405) 258-0175 for more information.