OBU to Celebrate 50 Years of University Chorale
November 7, 2013
OBU is well known across the nation for its excellent choral ensembles -- and the mixed chorus known today as the University Chorale -- is no exception. As part of the 2013 Homecoming festivities on Nov. 8-9, Chorale will celebrate its 50 year anniversary.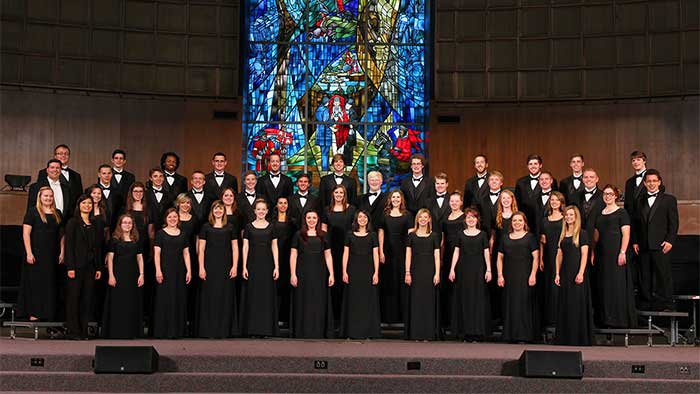 The celebration on Nov. 9 will include a Chorale breakfast at 8 a.m. in room 142 of Raley Chapel, and an evening banquet followed by a concert, featuring current students and alumni. The banquet will take place at 5:30 p.m. in the upstairs Geiger Center, and the concert will follow beginning at 7:30 p.m. in Raley Chapel's Potter Auditorium.
University Chorale's inception sprung to life in 1963 under the direction of founder Dr. Richard Lin, a native of China. However, the group originated with the name "Bison Chorale," before re-branding its name to "University Chorale."
Now comprised of over 40 excellent OBU singers selected by audition, Chorale's purpose remains the same as it was in its earliest days: "to present advanced choral literature to the OBU campus and community."
The University Chorale is led under the direction of its ninth director, Dr. Brent Ballweg, Burton H. Patterson Professor of Music and director of choral activities.
Pieces to be performed at the 50th anniversary concert include 'O Clap Your Hands' by Ralph Vaughan Williams, 'Psalm of Constancy' by Nancy Cobb, 'Swingin' with the Saints' arranged by Mark Hayes, among others. For a full list of songs to be performed or to find more OBU Homecoming information, visit the alumni Web pages.