Tickets on Sale for 'Tartuffe'
October 17, 2013
Ticket sales for OBU Theatre's production of "Tartuffe" are now available to the public. The premiere is Friday, October 25, at 7:30 p.m. in Craig-Dorland Theatre in OBU's Shawnee Hall.
Other performances include Saturday, October 26, at 7:30 p.m.; Sunday, October 27, at 2:30 p.m.; Thursday, October 31, at 7:30 p.m.; Friday, November 1, at 7:30 p.m.; and Saturday, November 2, at 7:30 p.m.
Written in 1664, "Tartuffe" takes place in the opulent 17th century home of Orgon, where Tartuffe -- a fraud and a pious imposter -- has insinuated himself in an effort to swindle his trusting benefactor. Will Tartuffe succeed in his villainous plan to confiscate Orgon's wealth and destroy his family?
"Tartuffe speaks to this community on two fronts. First it helps us remember that there is a need for balance and moderation in all things," said Dr. Jeffery Wells, director of Tartuffe and associate professor of theatre. "In order to minister to the needs of others, they must first see our loving-kindness and strength we received from our relationship to God rather than judgment related to superficial things. Second, it reminds us that religion can be used to manipulate and that we must be aware of how ideas can be twisted for the sake of deception."
The OBU cast of "Tartuffe" includes Madame Pernelle, played by Julie Studstill, a junior from Arlington, Texas; Orgon, played by Tony Quintant, a Sophomore from Oklahoma City; Elmire, played by Avery Ketchum, a senior from Bixby, Okla.; Damis, played by Conner Gilbert, a Freshman from Shawnee, Okla.; Mariane, played by Kymber Sage, a Freshman from Broken Arrow, Okla.; Valère, played by Trevor Rodman, a sophomore from Tulsa, Okla.; Cléante, played by Robert Mills, a senior from San Antonio, Texas.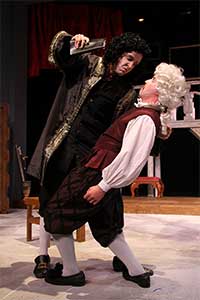 Other roles include Tartuffe, played by Andrew Barker, a 2013 OBU graduate from Louisburg, Kan.; Dorine, played by Bethany McWilliams, a junior from Shawnee, Okla.; Monsieur Loyal, played by Jonathan Brown, a junior from Yukon, Okla.; Officer, played by Stephen Kerr, a junior from Moore, Okla.; Flipote, played by Cherish Parker, a freshman from Tahlequah, Okla.; and Flipote, played by Caitlin Cullison, a freshman from Claremont, N.H.
The audience will have the opportunity to engage in a "Talk-back" session with a faculty panel, beginning ten minutes after the performance on October 25. Members of the faculty panel include Glenn Sanders, professor of history; Karen Youmans, professor of English; Ben Myers, professor of literature; and Tawa Anderson, assistant professor of philosophy.
Tickets for the OBU production of "Tartuffe" are $11 for adults and $5 for students. Located in Sarkeys Telecommunication Center, the OBU Box Office is open Monday-Friday from 9 a.m. to 4:30 p.m., or call (405) 585-4350.