Pops Concert Celebrates 30th Anniversary
October 3, 2013
The OBU Symphonic Winds and Bison Jazz Orchestra will present the 30th annual Pops Concert on Saturday, Oct. 12, at 7:30 p.m. in Raley Chapel's Potter Auditorium.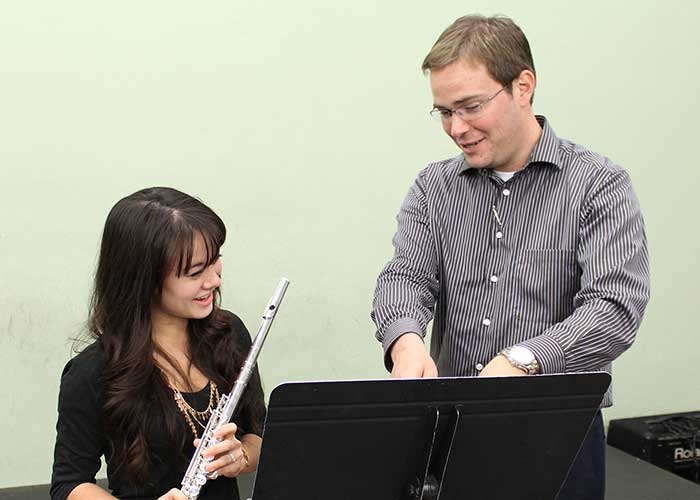 "We are very excited to present the Pops Concert for the 30th year on the OBU campus," said Dr. Kevin Pruiett, director of the Bison Jazz Orchestra. "We are looking forward to having former directors and students join us on stage to celebrate this wonderful event. Also, we get to introduce the new Director of Bands, Mr. Ryan Meeks to OBU and the Shawnee community."
Meeks will be conducting both the Symphonic Winds as well as the newly formed Bison Pep Band for this year's performance. While the Bison Pep Band's portion of the performance will be patriotic in nature, the Symphonic Winds will perform works by John Phillip Sousa, Larry Daehn, Paul Jennings and Jared Spears. The Symphonic Winds will also feature former directors Dr. Ron Howell and Dr. Jim Hansford and alumni Ashley Flowers and Kade Goforth.
The Bison Jazz Orchestra, directed by Pruiett, will perform big band selections by jazz greats Count Basie, Duke Ellington, as well as other jazz standards.
"This year, the audience will be treated to wonderful performances from our students as well as some alumni performers," Pruiett said.
The Bison Jazz Orchestra's portion of the concert will also feature vocalist Courtney King, and soloists Sadie Elliott, Spencer Davis, and Matthew Smith. King and Elliott are from Oklahoma City; Davis is from Pine Bluff, Ark.; and Smith is from Shawnee, Okla. The concert will once again feature former Bison Jazz Orchestra vocalist Micah McCaslin-Smith.
Dr. Dan Reeder, OBU Albert J. Geiger professor of finance, will serve as master of ceremonies.
"Dan's humor and rapport with the audience will keep the evening fun and exciting," Pruiett said.
The Shawnee community is invited to attend the family-friendly concert. Tickets are $5 for adults, $3 for students and children. As in the past, each ticket comes with a bag of candy.
"We hope that everyone can attend this family event. It is a wonderful opportunity for the Shawnee community to enjoy great music in a relaxed environment," Pruiett said.
Tickets will be sold at the door. Group rates are available. For more information, call (405) 585-4312 or email bands@okbu.edu.