OBU Theatre to Showcase New Works Festival
September 11, 2013
OBU students will showcase their creative talents at the New Works Festival Friday, Sept. 13 beginning at 7:30 p.m. The event will feature short plays written and directed by OBU students. The one-night-only show will take place in the Craig-Dorland Theatre located in Shawnee Hall. The price for admission is $5 for adults and $3 for students. Tickets will be available at the door. The community is invited to attend the presentations.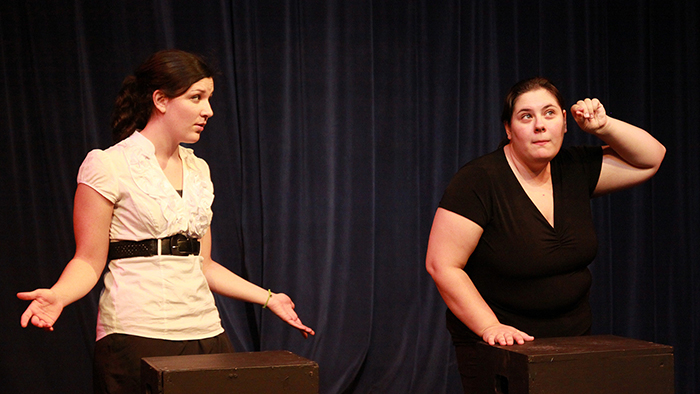 The College Players, an OBU organization dedicated to the promotion of interest in theatre and dramatic work, will present five original short plays for the audience. The casts of the plays will consist of two to four OBU students performing plays written and directed by OBU students. At the end of each play, the audience will have the opportunity to share feedback with the writer and director.
The plays will consist of "The Roommate," written by Trevor Rodman, a sophomore from Tulsa, Okla., and directed by Tony Quintana, a sophomore from Oklahoma City, Okla.; "Red Converses, Pink Sweaters," written by Bethany McWilliams, a junior from Shawnee, Okla., and directed by Julie Studstill, a senior from Arlington, Texas; "Charlie's Girls," written by Avery Ketchum, a senior from Bixby, Okla., and directed by Conner Gilbert, a freshman from Shawnee; "Sweet Dweebs," written by Studstill and directed by McWilliams; and "The Problems of a Vegetarian," written by Breana White, a senior from Broken Arrow, Okla., and directed by Rodman.
OBU theatre students, such as White, are ready for the opportunity to share their works.
"I am so excited to have one of my plays actually performed on stage," said White. "It is definitely an honor. I never considered myself a playwright before this year. Now that one of my works is premiering on stage, it is an absolutely surreal experience. I cannot wait to hear feedback from the audience and see my words on paper come to life!"
For Quintana, directing Rodman's play provides an interesting perspective.
"This has been a very unique experience for me," said Quintana. "I am directing a play titled 'The Roommate,' which happens to be written by my roommate. The characters are loosely based on the two of us, and it is interesting to see how my actors chose to act the both of us. I can't wait to see how it turns out!"
The New Works Festival will kick off the 2013-14 OBU Theatre season titled, "Keeping the Faith." The remaining productions include "Tartuffe" by Moliere, "Joseph and the Amazing Technicolor Dreamcoat" by Tim Rice and Andrew Lloyd Webber, and "Doubt: A Parable" by John Patrick Shanley.
Season tickets for all four productions are available to adults for $27, and $12 for students.