Bison Pep Band Adds Excitement to OBU Football
September 5, 2013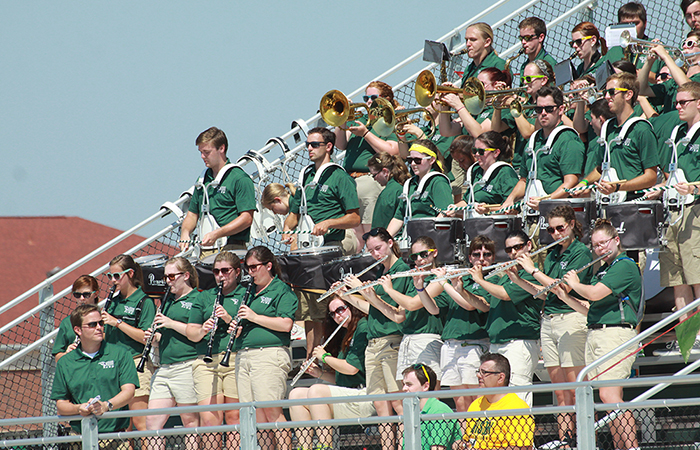 The Bison Pep Band, comprised of 55 Oklahoma Baptist University students and led by Director of Bands Ryan Meeks, performed various numbers including the OBU fight song during the first Bison football home game of the 2013 season, Saturday, Aug. 31. "I'm excited to be a part of a new tradition and support the football team," said Katie Batt, junior music education major, from Dale, Oklahoma. The Bison Pep Band will play from the stands in the five remaining home games of the season, including Saturday's game against St. Mary's University, Sept. 7, at 2 p.m.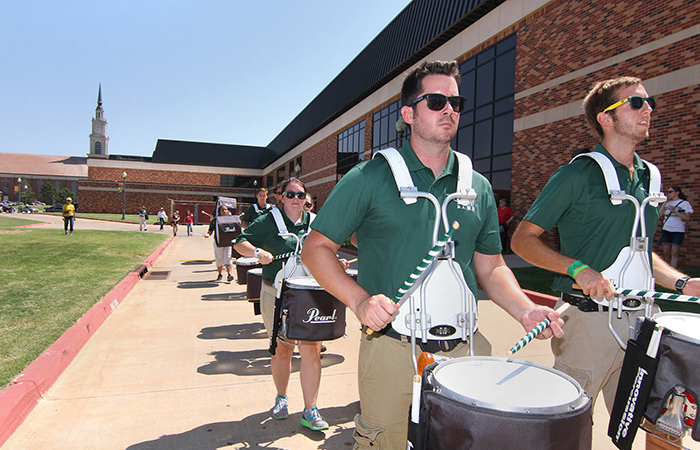 Bison Pep Band Percussionists (from left) Stephen Kerr, theatre major, and Thomas Whitmore, music education major, perform OBU's fight song, "Fight On, OBU!" while marching toward Oklahoma Baptist University's Eddie Hurt Field for the first Bison football game in 73 years.
Meeks said preparation for the Bison Pep Band has given him a chance to get to know his students very quickly, which excites him most.
"It is really important to all of us that we support our student athletes in a positive way and contribute to the excitement of the university community," said Meeks. "I love watching these students work, individually and collaboratively, to achieve these goals."
Learn more about OBU's Division of Music.