Whitlock Challenges Students and Faculty to 'Think'
August 28, 2013
During the Fall Convocation Wednesday, Aug. 28, in OBU's Raley Chapel, OBU President Dr. David W. Whitlock challenged students and faculty to consider the unique ability to think.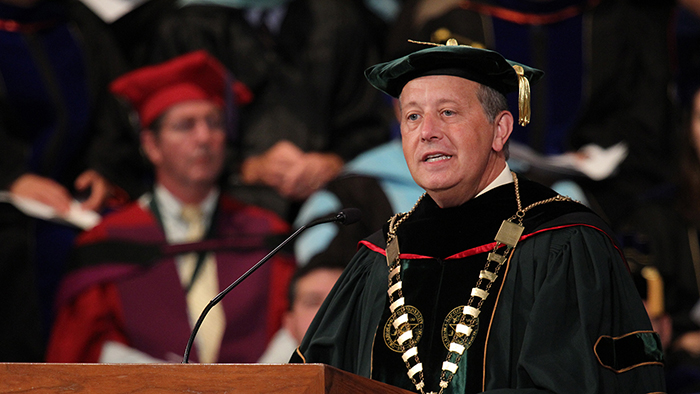 The Convocation signaled the beginning of the 2013-14 academic year on Bison Hill. As students and faculty launch into the new semester, Whitlock encouraged them to think on the grand questions of origin, purpose and destiny in life; to think critically and "Christianly"; and to strive toward being countercultural and a genuine radical in a crumbling culture.
"One of the highest privileges in life is to be a part of a community such as OBU where we devote a significant amount of time and effort in preparation for life to the joys and demands of thinking," Whitlock said.
Whitlock quoted Proverbs 25:2: "It is the glory of God to conceal a matter; to search out a matter is the glory of kings."
He told students they are afforded the opportunity to devote a significant part of the most formative years of their life to the luxury of inquiry and learning -- giving the OBU community cause in congregating and celebrating their duty and privilege.
"For the next four years you get to commit yourselves almost wholly to the luxury of kings and queens. You get to think."
Whitlock said OBU operates on a basis where faith precedes knowledge, and God is the source of all truth. With this as a starting point, Whitlock said students and faculty should be unafraid of inquiry, challenge, testing, asking the tough questions and the grand questions.
Whitlock said everyone has a worldview and sees the world through a lens. For Christians, this means looking through eyes of faith.
"A distinctively Christian education sees and approaches the world through the lens of faith. And so to think 'Christianly' is to see nursing, commerce, the arts, the sciences, music, law, politics, psychology and sociology, education and indeed all of our subjects of inquiry and study through the eyes of faith."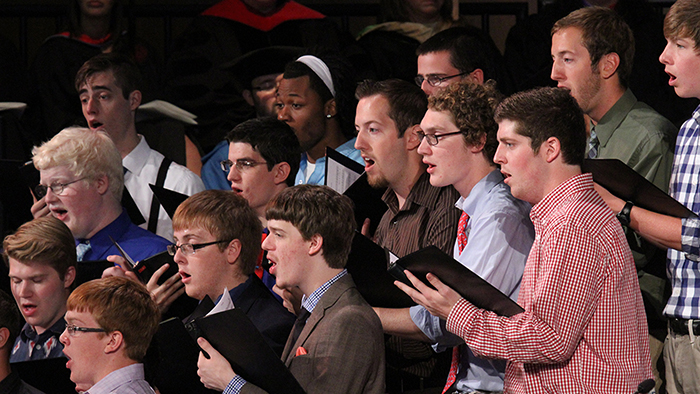 During the Convocation ceremony, new faculty and staff were introduced by Dr. Stan Norman, OBU provost and executive vice president for campus life. The University Chorale sang OBU's Centennial anthem, "Grow in Grace," directed by Dr. Brent Ballweg, Patterson professor of music and director of choral activities.
To read the full Convocation address, visit President Whitlock's blog.