Students Start Conversations to Change Lives in South Asia
August 14, 2013
In America, a person might be labeled as invasive or unstable if they walked into a café, sat down at an occupied table and struck up a conversation. But in South Asia, where "personal space" is treated entirely different, two OBU students found starting impromptu conversations resulted in changed lives.
OBU junior Bible majors Chase Simonson and Chris Williamson traveled to South Asia May 25-July 5 for a relatively extended Global Outreach (GO) Trip through OBU's Avery T. Willis Center for Global Outreach. The young men, along with group sponsor Brandon Skaggs, OBU's dean of students, focused on how best to become involved in the culture, to build relationships and, when possible, share their Christian faith.
"Our purpose was to share Christ with others," said Simonson, who is from Edmond, Okla. "We would walk around and meet people, build relationships with shop owners and just people on the street, all on the foundation of sharing Christ with them through our words and actions."
At least four people's lives were changed through the encounters, Simonson reported, with dozens more hearing the Gospel message.
"The people for the most part were very relational," said Williamson, a Shawnee native who noted a simple greeting often resulted in a long conversation ranging from his hometown to what he believed and why. "All of the friends we made there showed a love for life that one probably wouldn't expect considering their personal situations. It was an amazing thing to witness."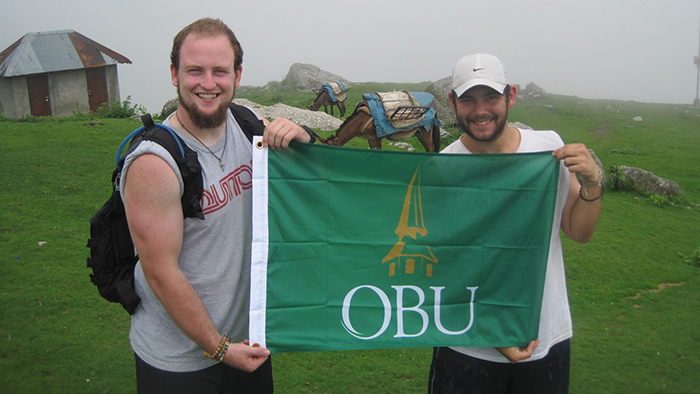 While the assigned task seemed relatively simple, the culture itself presented multiple challenges to the team. Embarking on their first trip to South Asia, they encountered a location different from Western culture "in almost every way," Williamson said.
"The city was covered in trash, and poverty was much more noticeable," he said, with people begging for food or money or trying to sell goods. "We would see both wild animals and impoverished people digging through the trash for food."
Physically, traversing a city filled with steps proved exhausting with constant walking and climbing. Spiritually, the students discovered a necessity to rely on God to provide for their needs. Simonson said language barriers also presented a great challenge.
"Our language was very basic, and so, because of that, we were limited on who to talk to," he said. "Most people spoke English, but not fluently enough to understand complicated words or understand big sentences when we tried to explain salvation."
Yet the people and the land captured the students' hearts, and the team said they encountered God at work during their cross-cultural exchange. At a 5,800-foot altitude, the students could see for miles, with sunsets splashed over the mountains each evening.
"I was blessed to see a whole other part of this world that God created, both the sights and the people," Williamson said. "And I got to witness just a piece of the work that He is already doing there. We were very blessed to witness a profession of faith in just our first week. I've also been able to witness the Gospel tear down cultural barriers and the Holy Spirit move in peoples' hearts."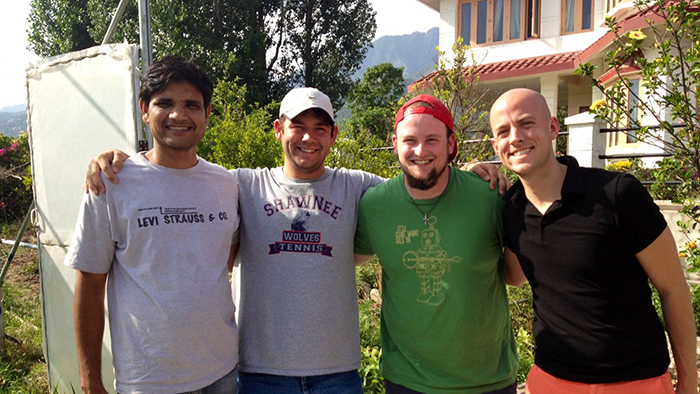 As the team's sponsor, Skaggs said he was amazed to see the eagerness to learn exhibited by both students before the team even landed in South Asia.
"Their personalities really started to show, and it was amazing to see God use, and move within, both young men in very different ways," Skaggs said. "Chase's ability to make friends with every person he came in contact with was extremely helpful in getting to know the people group that these students were working with. For Chris, I really enjoyed seeing God use him in learning the language, and building relationships with the local believers."
Both team members said they believe the GO Trips are an important opportunity not to be missed by their fellow students. Simonson said the trips not only give students a chance to take the Gospel message to people who have never heard it, but also to realize firsthand how few Christians are working toward that task. Williamson noted students should make the trip now, while they can.
"We as students are blessed to be at a university that is willing to work with us so closely for these trips," he said.
Skaggs said although the trip had many changes as the team traveled internationally, the journey provided a great learning experience for the students: they saw how God uses circumstances as an opportunity for growth, and the trip showed the students how believers must rely on faith that God has worked out life's details.
"During our trip, the students were able to see how full-time mission workers live on a daily basis, not only to see the challenges they have on bringing the Gospel to a new area, but also, the students had the opportunity to experience the ultimately joy as they were able to see a local believer being baptized," Skaggs said.
Part of OBU's mission is to transform lives by equipping students to engage a diverse world. Each year, OBU's GO Center sends dozens of students, faculty and staff on cross-cultural endeavors. For more information about the GO Center and its ministries, visit the Global Outreach Web page.