Music Preparatory Department Opens Registration
August 6, 2013
Registration is now open for aspiring musicians of all ages to join OBU's Music Preparatory Department for the 2013-14 academic year, announced Conchita Hansford, director of the program.
OBU's Music Prepatory Department began in 1985 and offers many musical opportunities to students, ages birth through adult, in Shawnee and surrounding areas. Under the umbrella of the Warren M. Angell College of Fine Arts, the department offers private piano, voice, guitar, string, wind and percussion instrument instructions, as well as Keyboard Readiness, Keyboard Concepts, Art classes and Kindermusik classes for babies and preschoolers. A choral experience is available through the Young Singers of Central Oklahoma. The choirs included are Shawnee Honor Choir, Concert Choir, and Discovery Singers.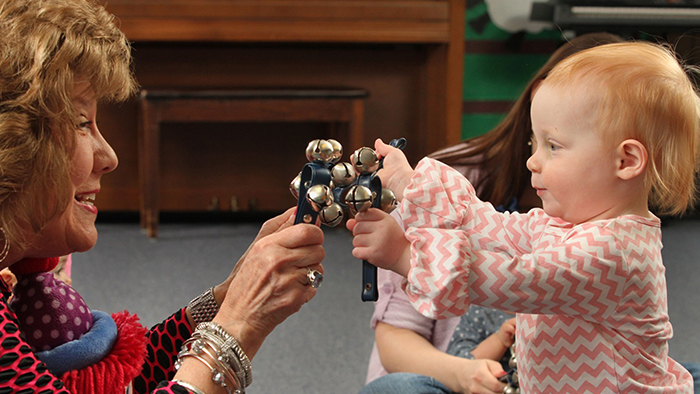 Kindermusik Village meets on Monday at 10 a.m. It is designed for newborns to children 18 months old and focuses on the developmental benefits of music and movement for the child. The most exciting hallmark is its focus on the very special infant-parent relationship.
Other Kindermusik Classes are offered for 2-, 3-, 4-, and 5-year-olds. These classes provide a wide range of fun musical experiences and activities through singing, moving, listening and playing simple rhythm instruments. The program helps develop coordination, crossing the mid-line, and even pre-reading and math skills. Preschoolers develop their verbal, motor and social skills through participation in many musical activities. The classes, taught by Conchita Hansford, meet in the Early Childhood Music Suite in Ford Music Hall at 11 a.m. Monday or at 10 a.m. Thursday for the 2-year-old class. Children, age 3 through 5-years-old, have an option of a 10 or 11 a.m. class on Wednesday. AThursday 5:15 p.m. class for 3-, 4- and 5-year olds is also available.
Keyboard Readiness is a class for 5- and 6-year-old children interested in studying the piano. Students explore musical concepts including up/down, high/low, loud/soft and fast/slow and also learn note names and note values. Classes meet on Tuesday 5:30 p.m. in Ford Music Hall and are taught by Davis Dorrough. Depending on enrollment, there is an option for an additional class on Tuesday or Thursday evening.
Keyboard Concepts, a class for second- and third-grade students interested in beginning piano study, meets on Thursday at 6 p.m. in the electronic piano lab in Raley Chapel. Limited to six students, it is designed to teach beginning piano and basic music theory. Dr. Michael Dean, piano pedagogy director, teaches this class with the assistance of the college pedagogy students.
String Instruction (violin and cello) utilizing a traditional approach combined with Suzuki materials is available. Instructors are Rebecca Panayiotou and Kathleen Gallagher, violin and Thresa Swadley, cello.
Private Lessons in piano, voice, guitar, string, wind and percussion instruments are provided to students on an ongoing basis to foster continued musical development. Lessons in a 30- or 45-minute format are available for all ages.
Art lessons and classes include a drawing course that will incorporate sketching and concepts for adults and students ages 7-18.
Shawnee Honor Choir, directed by Hansford and in its 31st year, is an auditioned group of third- through seventh-graders from Shawnee and the surrounding area. Children perform a wide variety of music ranging from simple unison songs to the more challenging two- and three-part choral treble literature. The choir performs annually in 12 area schools and presents four formal public concerts. It meets on Tuesday afternoons from 3:30-5:15 p.m. and has performed six times as the honor group for the Oklahoma Music Educators Association State Convention in Tulsa.
Concert Choir is an auditioned ensemble designed to provide singing experiences to upper middle school and high school voices. Performance highlights have included the Organization of American Kodaly Educators National Conference in Virginia, the Oklahoma Music Educators Association State Convention in Tulsa and performances at the American Choral Directors National Convention in Los Angeles. The choir rehearses on Tuesday afternoons from 5-6:30 p.m. and is directed by Dr. Casey Gerber, OBU coordinator of music education.
Discovery Singers is for non-auditioned singers ages seven and up, and is offered to help children develop their voices and listening skills preparing them for future choir success. The class meets on Tuesday from 3:30-4:30 p.m. and is taught by Gerber.
For more information and registration, contact Conchita Hansford by phone at (405) 585-4323 (office) or (405) 273.2273 (home) or by e-mail at conchita.hansford@okbu.edu.