Two Educators Retire from OBU Faculty
July 1, 2013
Two longtime educators announced retirements from the OBU faculty, effective following the conclusion of the 2012-13 academic year. Dr. Lana Bolhouse, dean of the College of Nursing, is retiring after 40 years of service at the university, and Dr. Eileen Hargrove, professor of mathematics, is retiring with 23 years of service.
| | | | | | | | | | | | |
| --- | --- | --- | --- | --- | --- | --- | --- | --- | --- | --- | --- |
| | | | | | | | | | | | |
| | | | | | Dr. Lana Bolhouse | Dr. Eileen Hargrove | | | | | |
Bolhouse earned her bachelor's degree in nursing from OBU in 1973. She earned a master's degree in psychiatric-mental health nursing from Texas Woman's University and her Ph.D. in sociology from Oklahoma State University. She joined the OBU faculty as an assistant in 1973 and was named an instructor in 1977. She became an assistant professor in 1980 and achieved tenure in 1982. She was named associate professor in 1990 and professor in 1998.
OBU launched the state's first bachelor of science degree program in nursing in 1952. In 1981, OBU's School of Nursing was established from the existing program in the College of Arts and Sciences. In 1987, the Ferril C. and Phyllis Williamson Nursing Education Center was dedicated in OBU's historic Thurmond Hall.
"The highlight was teaching with Juanita Millsap, one of the founding 'mothers' of this program," Bolhouse said. "She always told me of historical aspects of the program as well as discussing current nursing issues. Other highlights have been interactions with other scholarly faculty (non-nursing) through the years."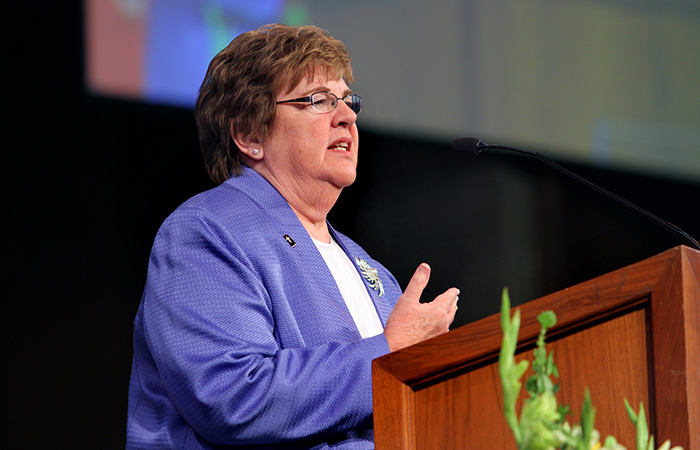 Bolhouse was named dean of the College of Nursing in 1999. In 2006, she received OBU's Meritorious Service Award in honor of her instrumental contributions to the program and her dedication to the University. With Bolhouse's guidance, the OBU Graduate School in Oklahoma City added a master's degree in nursing in 2008. Through the years, she said she has enjoyed interacting with the nursing students.
"They have contributed much to my life and learning through the years," she said. "They have always been so bright and so excited about nursing. They personify great hope for the profession. The OBU nursing program has always enjoyed a good reputation for graduating caring nurses. I think the faculty have always worked very hard to maintain this standard and to keep students aware of the latest in best nursing practices."
Bolhouse is the author of several articles in The Oklahoma Nurse and Christian Single Magazine. She has more than three decades of nursing and educational experience. Prior to joining the faculty at OBU, she was a staff nurse at Presbyterian Hospital in Oklahoma City. In 1996, she received the Outstanding Psychiatric Nurse of the Year award from the Oklahoma Nurses Association. She also received the Excellence in Teaching Award from the Sears Foundation and OBU. She is secretary of the Shawnee Volunteer Clinic Advisory Board and a member of Spring Creek Baptist Church in Oklahoma City.
In retirement, Bolhouse said she plans to work at her church through Faith Community Nursing (sometimes called a parish nurse). She also hopes to teach in the OBU Graduate program; read some books she hasn't had time to read; do needlepoint; and "sit on my back porch on good-weather days."
Hargrove earned a bachelor's degree from Spring Hill College. She earned a master's degree and her doctorate from the University of Alabama. She served as an adjunct professor for two years before joining the OBU faculty in 1990 as an assistant professor. She earned senior faculty status in 1996; was named associate professor in 1996; and achieved the rank of professor in 2002.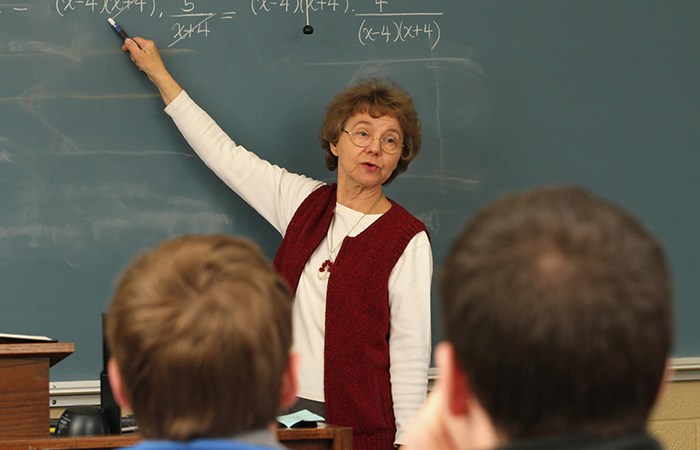 Related to her doctoral dissertation, titled "Concerning Connectivity and Darboux Functions" dealing with the Intermediate Value Theorem, Hargrove's teaching specialty included real analysis and the upper-level algebra courses. Hargrove has taught every course from MATH 1033 Introduction to Contemporary Mathematics through the calculus sequence (MATH 2013 Analytic Geometry and Calculus I - MATH 2043 Analytic Geometry and Calculus IV) on a rotating basis with her other colleagues in the mathematics department, said Dr. Debbie Blue, dean of the Hurley College of Science and Mathematics.
However, Hargrove has been the primary professor for several OBU courses, including: MATH 3203 Linear Algebra; MATH 4103 Introduction to Real Analysis; MATH 4133 Introduction to Modern Algebra; and MATH 4113 History and Foundations of Mathematics, the capstone course for all mathematics and secondary mathematics education majors.
Hargrove is a member of the American Mathematical Society and the Mathematical Association of America. This year, she received the "Seven Who Care" award, given by OBU's Student Government Association to faculty and staff based on nominations from students or employees. The award honors the individual's contributions to the campus community and, specifically, to students.
In retirement, Hargrove already has visited family in Colorado and Alabama. She cares for her two Chihuahua/terrier-mix dogs, Jack and Jill, adopted through SPAR (Saving Pets At Risk), and she will continue active participation in her church work at St. Paul's United Methodist Church in Shawnee.