Profile in Excellence: Sean Meade
July 8, 2013
Editor's Note: Oklahoma Baptist University alum Sean Meade, a 2000 graduate, is a 2013 recipient of the OBU Alumni Association's Profile In Excellence Award. The award is given to a former student who has "demonstrated recognizable accomplishment in his or her profession, business, avocation, or life service in such a way as to bring pride and honor to the University." Each year, Profile In Excellence recipients are featured in OBU Magazine.
In 2006, OBU alumnus Sean Meade felt that God was calling him to begin a ministry directed toward middle school. As a result, Meade and his family sold their house and a vehicle to cover the capital to launch Stuck in the Middle, or simply, "Stuck."
Geared specifically toward middle-school students, Stuck adopted the mission "to stand behind and for middle-school students and the people who are fighting for their faith in Jesus Christ."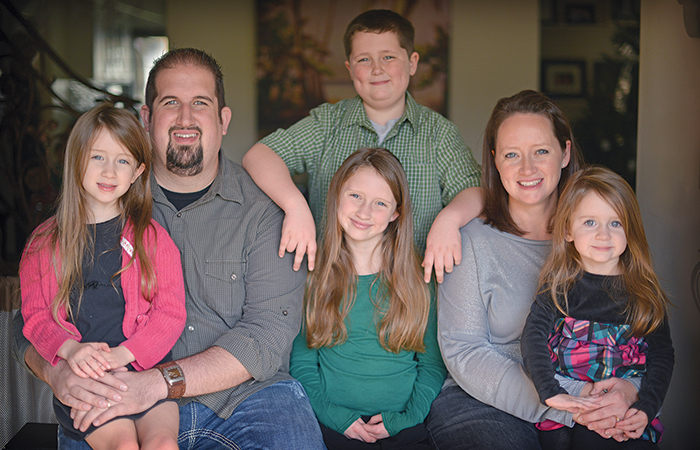 "Selling our home and moving in with family for a season was difficult, but God used [the situation] to stretch us and to help us grow as we pushed forward in faith," Meade said.
As a result of the Meades' faith, Stuck continues to host weekend conferences in large churches and convention centers nationwide, while also going on international tours with regular events in Canada, and future plans of taking the tour to other countries. Stuck events usually involve comedy acts, worship, group building activities and engaging speakers.
Through Stuck, Meade has been able to represent middle-school ministry and raise awareness of its importance. He also has trained youth leaders at ministry conventions, worked as a consultant with churches and denominations, written articles and books, and spoken at youth events, camps and retreats.
In addition to his role as president of Stuck, Meade serves as the full-time middle-school pastor of Calvary Community Church in Southern California.
Prior to leading a life of ministry, Meade attended OBU for three years with the Class of 2000.
"In some way, every part of my life today has been shaped and influenced by my time on Bison Hill," Meade said. "I learned a lot about who I am (and who I am not), I met my wife, and I met lifelong friends."
Meade said that he was not a very good student in his years at OBU, but despite his lack of dedication, professors continued to invest in him, while he also received encouragement from friends and classmates.
"It's funny how often we learn more about success through our failures," he said.
Meade attributes the opportunity to serve as president of the class of 2000 for three years as a blessing to grow as a leader and develop skills that would help him lead a non-profit organization.
Following his time at OBU, he accepted his first pastoral position in his hometown of Wichita, Kan.
In working with middle school students and their families over the next several years, he began to study adolescent development and research associated with faith development.
"Statistical research and neuroscience came together to confirm what experience had already taught me," said Meade. "That, as Rick Warren has said, 'junior-high may be the single most pivotal period for spiritual decisions in the lives of our children.'"
He said Stuck is a direct result of that realization; the first independent non-profit organization completely dedicated to middle school ministry.
Meade and his wife, Jill, a 2001 OBU graduate, live in Westlake Village, Calif., with their four children: Madison, Aiden, Bella and Olivia. Meade loves kayaking with his kids and performing improv comedy as "The Big Show" with James Pendergrast, also a 2000 OBU alum.
For more information about Meade's ministry visit the Stuck in the Middle website.
View a list of others who have received the Profile in Excellence award.