Oklahoma Pastors Encouraged, Equipped at OBU
July 22, 2013
More than 80 pastors from across the state were encouraged and equipped through the 2013 OBU Pastors School July 15-17. The annual Pastors School, conducted on the Shawnee campus, is designed to provide an opportunity of ministry development for Baptist pastors from Oklahoma and the region.
Joe Sanders, senior pastor of Alfalfa Baptist Church near Carnegie, Okla., attended last year's Pastors School, the first one conducted by OBU in more than half a century. He told OBU President David W. Whitlock that as great as the 2012 school was, this year's event was even better.
"I thought everything was outstanding," Sanders said. "These two schools have greatly impacted myself personally and my ministry. Please keep it up and do know that I so appreciate being able to go to a school such as this."
Dr. Whitlock encouraged the development of the school, which fulfills part of the University's strategic initiatives outlined in the plan called OBU 2020.
"My prayer for pastors during the annual event has been for their spirit, heart and mind to be renewed and refreshed as we sit together under nationally recognized and spiritually proven teaching, preaching and breakout sessions," Whitlock said.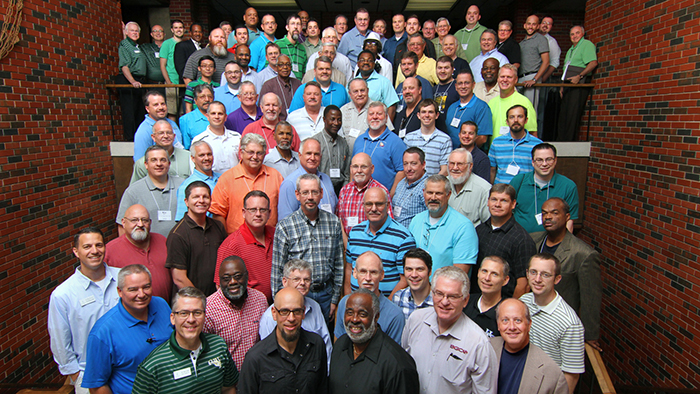 The event was hosted by the office of Spiritual Life and the OBU Hobbs College of Theology and Ministry. Sponsors for the event include The Baptist Foundation of Oklahoma and Oklahoma Baptist churches and associations. The theme for the school was "Preach the Cross," based on 1 Corinthians 1:18. Nick Garland, president of the Baptist General Convention of Oklahoma and senior pastor of First Baptist Church of Broken Arrow, led the morning devotions.
The primary sessions were led by two Baptist scholars and pastors: Dr. Tony Merida, pastor of Imago Dei Church in Raleigh, N.C. and associate professor of preaching at Southeastern Baptist Theological Seminary; and Dr. Robert Smith Jr., professor of divinity and Christian preaching at Beeson Divinity School, Samford University.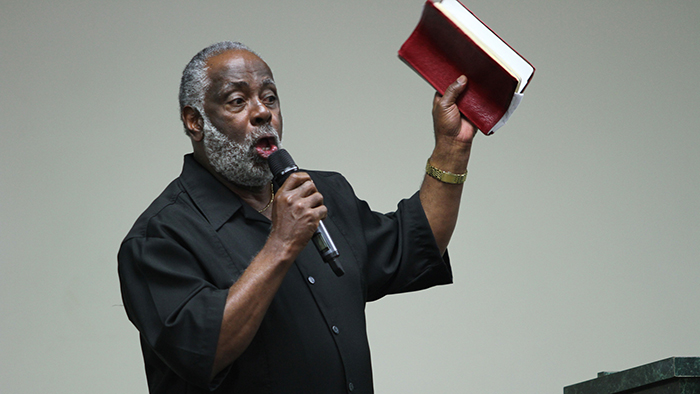 "If the 2013 OBU Pastors School was a select coffee blend, it would be described as having the perfect mix of academic excellence, faith filled teaching and practical application," said Dale Griffin, dean of spiritual life at OBU. "One rarely has an opportunity to experience the sweet aroma of that type of mix beyond the season of collecting degrees. The 2013 OBU Pastors School offered two plenary speakers who spoke from vibrant personal walks with Christ who are also incredibly strong in the classroom on the master's and Ph.D. levels, as well as in the local church. We were captivated by their story telling and communication abilities, and only in reflection realized they had walked us through deep doctrinal streams that continue to feed the soul well beyond the large-group sessions."
The event also featured sessions taught by OBU professors from the Hobbs College: Dr. Bobby Kelly, Ruth Dickinson professor of religion; Dr. Alan Bandy, Rowena R. Strickland assistant professor of New Testament; Dr. Ish Mudliar, associate professor of biblical and theological studies; and Dr. Scott Pace, Reverend A.E. and Dora Johnson Hughes chair of Christian ministry.
"For an even more in depth look at the theme, 'Preach the Cross,' Hobbs College faculty presented compelling arguments for the centrality of the cross in the Old Testament, the Gospels and the Pauline epistles," Griffin said. "We are blessed to have faculty who are making a difference in the lives of students and pastors alike."
The 2014 Pastors School is set for July 14-16 in Shawnee. For pastors such as Cameron Whaley, who serves at Canadian Valley Baptist Church in Yukon, Okla., the Pastors School will be a fixture in future ministry development plans.
"OBU's Pastors School will now be a highlight of my year for the foreseeable future," Whaley said. "It provides an opportunity for pastors to fellowship with each other and hear great exposition from godly men."