High School Students Find Creative Learning at STEM Camp
July 24, 2013
By midsummer, teenagers across America barely stave off boredom as they await the beginning of school. But for 10 Shawnee-area students, OBU has piqued their interest in science, technology, engineering and mathematics (STEM) through a new Summer Institute full of fun and interesting projects.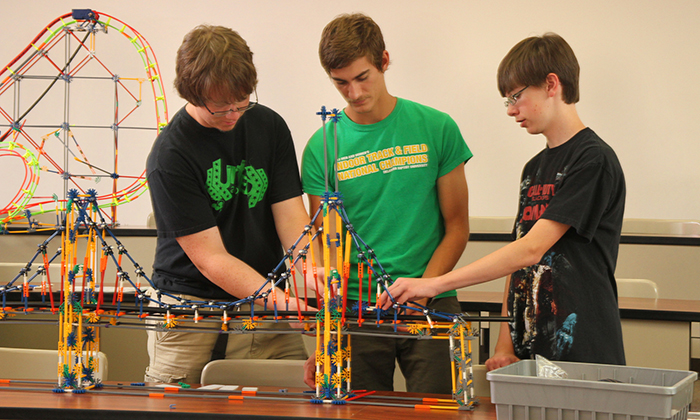 With a grant from the Kirkpatrick Foundation, OBU launched its inaugural STEM camp, called the Summer Institute at OBU, from July 1-26. The program is directed by Dr. Renita Murimi, assistant professor of computer science in OBU's Paul Dickinson College of Business, and taught by OBU faculty and undergraduates.
The goal of the Summer Institute at OBU is to develop knowledge of and enthusiasm for various career paths in STEM areas, Murimi said. During the four-week period, students have been introduced to "learning via discovery" through modules in physics, electrical engineering, computer science, mechanical engineering and math.
"We designed the curriculum for the Summer Institute where students could learn through play," Murimi said. "STEM areas offer a lot of potential for hands-on activities, and students were encouraged to be creative in their projects. Some of our students volunteered to stay after the camp hours to be able to experiment more with the robots. We hope that the skills they gained in investigative discovery will carry on into their school year. Ultimately, the goal is for the students to appreciate science, math and technology."
The Summer Institute's modules exploring engineering have included chemical engineering, studying the periodic table and everyday chemical products; biomedical engineering, studying genetics, DNA and the structure of the brain; nuclear engineering and the study of radiation; mechanical engineering by building simple machines; and environmental engineering, studying endangered species, global warming and policies.
Exploring physics, the camp's projects have included building roller coasters; and building and exploring machines such as levers, pulleys, wheels and axles, inclined planes and gears. In electrical engineering, campers have built circuits such as alarms, detectors, sensors and logic circuits. Computer science projects have included programming using Scratch and Alice, and robots such as Lego Mindstorms and Finch robots.
Kyle Luckens, 16, who is a rising junior at West Moore High School in Moore, Okla., said the robotics module has been his favorite aspect of attending the camp. Luckens said the Summer Institute has helped prepare him for the Vo-tech programs he plans to attend prior to college by teaching him to "think outside the box" and practice problem-solving skills.
"The robotics module showed me that creativity is not limited to mediums like pens and paper," Luckens said. "You can design other things to function like you want them to."
To study renewable energy, campers have completed building experiments designed around solar, wind and hydroelectric power. Exploring architecture, campers have built models of the London Bridge and the Golden Gate Bridge.
Fourteen-year-old Nick Sitter, who is attending the Institute, said activities such as constructing a replica of the Golden Gate Bridge opened his eyes to the meticulous engineering required to successfully create architectural projects.
"It's been very interesting and helpful to learn in a fun -- not boring - way," said Sitter, who will be a freshman at Shawnee High School. "You pop open a textbook, read and do an assignment - that's not very fun. But this camp was hands-on, and that made learning a lot more interesting."
The Summer Institute also has taught students how to conduct research by studying how to access materials in a library, as well as best practices for citations; ethics and plagiarism; and presentation skills.
For information about future Summer Institute programs, contact Murimi at renita.murimi@okbu.edu.