Eleven Athletic Teams Earn Scholar Distinctions
July 15, 2013
Eleven athletic teams from OBU are among the 898 from across the National Association of Intercollegiate Athletics to be named NAIA Scholar-Teams. OBU teams earning the honors were women's basketball, men's cross country, women's cross country, men's golf, women's indoor track, women's outdoor track, women's soccer, softball, women's swimming and diving, men's tennis and volleyball.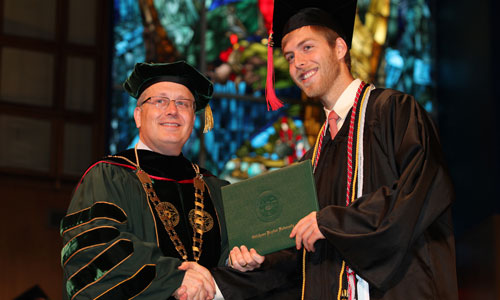 The award requires a team grade point average of 3.00 or better for the academic year. For the second year in a row, more than 15 percent of the schools receiving the award had a 3.5 or higher grade-point average.
The team grade-point average includes all eligible varsity student-athletes.
With a team GPA of 3.20, the Lady Bison basketball team ranks 10th academically in the NAIA.
Men's cross country had a 3.24 GPA to rank 27th in the NAIA. The cross country women, with a team GPA of 3.29, rank 59th. The Lady Bison indoor track team carried a 3.28 GPA for a No. 26 ranking while the outdoor squad, at 3.20, ranked 46th.
The men's golf team checks in at 3.13 and is 38th among NAIA golf teams.
The 3.30 GPA of the Lady Bison soccer team was 30th in the NAIA.
OBU softball carried a 3.24 grade point average, which was 39th among NAIA softball squads.
The Lady Bison swimming and diving squad's 3.31 GPA was fifth. Men's tennis, with a 3.03, was 34th.
OBU volleyball had a 3.37 grade point average and was 38th among NAIA volleyball programs.
Visit the OBU Athletics website for full information about all Bison and Lady Bison teams.