OBU Top Athletic Program in NAIA
June 14, 2013
OBU has the top athletic program in the NAIA, according to the Learfield Sports Directors' Cup, it was announced Friday.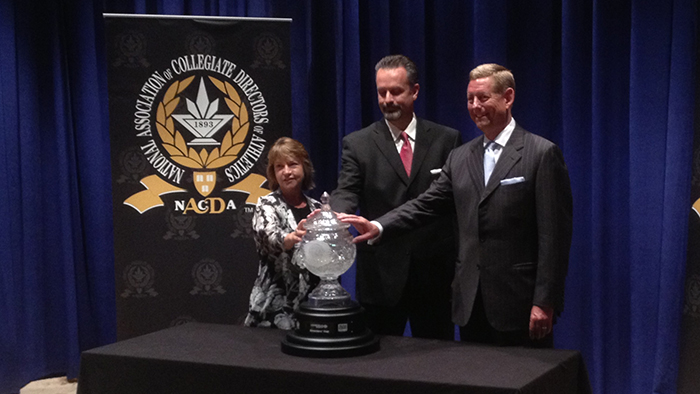 The Directors' Cup measures the overall success of college athletic programs on a scoring system based on postseason success. The Learfield Sports Directors' Cup was developed as a joint effort between the National Association of Collegiate Directors of Athletics (NACDA) and USA Today. Points are awarded based on each institution's finish in up to 12 sports -- six women's and six men's.
"This is a very exciting time for Oklahoma Baptist athletics," said Robert Davenport, OBU director of athletics. "This award speaks to the work, effort and character of our coaches, student-athletes and the university. This is a great source of pride for OBU and a day we'll long remember."
It is OBU's first Directors' Cup title. The school finished fourth last season and that was the highest the Shawnee school had finished until this year.
OBU finished with 964 points, holding strong in the spring after taking the lead in the winter sports.
OBU was second in the standings after the fall sports were completed, scoring 250 points. Men's cross country led the way with 80 points from a fourth-place finish, followed by volleyball adding 73 points for its quarterfinals appearance in the NAIA national tournament.
Women's cross country contributed 72 points and men's soccer was awarded 25 points for a 17th-place finish.
The winter sports brought OBU 453 more points as men's and women's swimming and men's and women's indoor track captured national titles at their respective meets all on the same March day.
Men's basketball made the NAIA second round to bring home 53 points.
This spring, OBU scored 90 points in both men's and women's outdoor track and field, 53 points in women's tennis, 50 in baseball and 25 in men's tennis.
Only allowed to use its top six men's and top six women's sports, OBU's final points total came from men's and women's indoor and outdoor track and field, men's and women's cross country, men's and women's swimming and diving, volleyball, women's tennis, men's basketball and baseball.
OBU is just the fifth school to win the NAIA award, which began in 1995-96. Azusa Pacific won it the last eight years, Simon Fraser won six times, Lindenwood twice and Pacific Lutheran once.
Seven other Sooner Athletic Conference schools scored in the standings. Oklahoma City is 10th at 614, followed by Wayland Baptist in 15th at 530.75, Lubbock Christian in 33rd at 347.5, Rogers State in 71st at 179, USAO in 104th at 117, St. Gregory's in 127th at 86 and John Brown in 148th with 53.
In the NAIA standings, 203 schools scored points.
Directors' Cup through the years by year winner and OBU's finish:
1995-96 Pacific Lutheran 38th
1996-97 Simon Fraser 25th
1997-98 Simon Fraser 44th
1998-99 Simon Fraser 20th
1999-2000 Simon Fraser 23rd
00-01 Simon Fraser 19th
01-02 Lindenwood 9th
02-03 Lindenwood 13th
03-04 Simon Fraser 16th
04-05 Azusa Pacific 10th
05-06 Azusa Pacific 4th
06-07 Azusa Pacific 5th
07-08 Azusa Pacific 16th
08-09 Azusa Pacific 14th
09-10 Azusa Pacific 13th
10-11 Azusa Pacific 7th
11-12 Azusa Pacific 4th
12-13 Oklahoma Baptist 1st