Sanders Receives Distinguished Teaching Award
May 29, 2013
Dr. Glenn Sanders, professor of history and chair of the Division of Behavioral and Social Sciences at OBU, received OBU's Distinguished Teaching Award during the university's Spring Commencement May 17.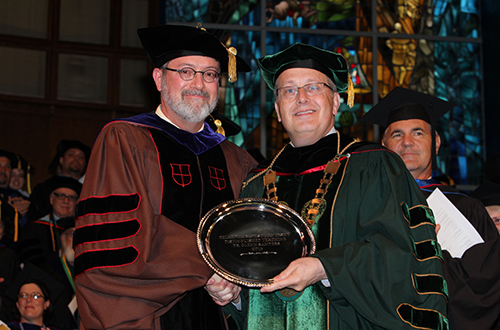 Sanders, who joined the OBU faculty in 1988, received the award from OBU President David W. Whitlock during the graduation ceremonies before an overflow audience of more than 1,800 in the university's Raley Chapel.
The highest honor for OBU faculty members, the Distinguished Teaching Award is presented to a faculty member who has taught at OBU for five consecutive years or more. This faculty member has exemplified in his or her teaching career those characteristics of the superior instruction delineated in the "Commitment to Excellence," a statement of teaching expectations and objectives adopted by OBU's faculty, administration and Board of Trustees.
In presenting the award, Whitlock said Sanders has received the admiration of his peers, his students and the administration, as evidenced by previously receiving OBU's Promising Teacher and Meritorious Service awards.
"His colleagues describe him as passionate for teaching, committed to his faculty role, and a consistent model of the Christian teacher and scholar," Whitlock said. "He is tireless in his preparation for lectures and genuinely concerned for his student's growth. Students leave his classes more thoughtful and aware of the many ways they can impact the people around them."
Whitlock said Sanders inspires and encourages students outside the classroom as well through directing the Model Arab League simulations and finding opportunities such as museum visits, conference attendance and study abroad trips to challenge students in their intellectual journey.
Sanders has traveled to Great Britain, Belgium, Luxembourg, France, Syria and Turkey for pleasure and further study. On campus, he served as the Faculty Council chair for the 2012-13 academic year.
Sanders earned his bachelor's and master's degrees from Baylor University and his doctorate from Brown University. He achieved the rank of assistant professor in 1989 and senior faculty status at OBU in 1993. He was named professor of history in 2002.
Each year at Spring Commencement, OBU presents three important awards to recognize quality teaching and faithful, productive service: the Promising Teacher Award, the Meritorious Service Award and the Distinguished Teaching Award. Nominations for the awards are made by alumni, current students, faculty and administration. In addition to public recognition and a token of the university's appreciation, the recipients receive cash awards provided by OBU graduates John and Janet Hudson of Edmond, Okla.