OBU Honors Nursing Graduates at Pinning
May 16, 2013
Thirty-six OBU nursing students participated in the Spring 2013 Nurses' Pinning Ceremony Thursday, May 16, in Raley Chapel's Potter Auditorium. The tradition symbolizes the transition from student life to a professional role for the graduating seniors.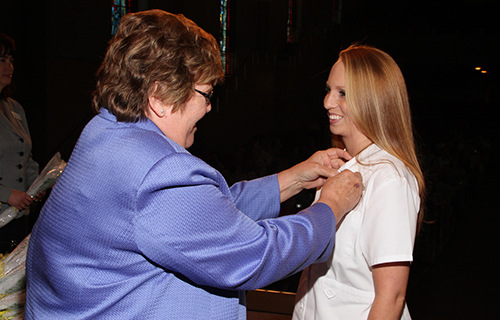 Designed by the Class of 1956 -- the university's first class of nursing graduates -- the OBU nursing pin is awarded to graduates by Dr. Lana Bolhouse, dean of the College of Nursing. The pin features a white Roman cross centered on a black background.
To view a picture gallery of the ceremony, visit the OBU Facebook page.
The Pinning Address was presented by Bolhouse as she prepares to retire after 40 years of service on Bison Hill. Bolhouse based her address on nursing professionals' use of "evidence based practice" to ensure their patients receive the best and most current care. As she has pondered strategies for continuing "best practices" in OBU's College of Nursing and the broader community, Bolhouse said she has come to the conclusion that nurses who have graduated from OBU's program during the past 61 years have become the evidence.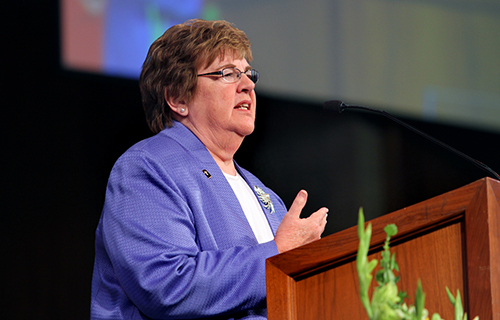 "OBU nursing graduates are the evidence that a strong liberal arts foundation results in a well-rounded person who practices excellent patient care in health care settings," Bolhouse said. "OBU graduates have been the evidence that competent clinical faculty demonstrate best practices and mentor novice nurses for outstanding practice. OBU nursing graduates have been the evidence that excellence in teaching strategies have resulted in a foundation of knowledge and excellent clinical thinking demonstrated by our nursing graduates in health care delivery around the world. Now you will be those graduates, you will be the evidence."
Bolhouse also spoke of a second kind of evidence, as referred to in Hebrews 11:1, which says, "Now faith is the substance of things hoped for, the evidence of things not seen" (NIV). She said some areas of health care are hoped for, such as healing, being psychologically sound or even life itself. Other areas, she said, are not seen, such as wellness, health and breath. She challenged the OBU graduates to approach these areas through their faith.
"In the days to come, you will be the pathway to things hoped for - like healing, like being made psychologically sound, like life itself," she said. "You will be the evidence of things not seen -- like wellness, like health, like breath itself. You will be the evidence that the spiritual realm is an important part of ministry to all people, all of whom were made in the image of God."
She reminded the graduates they will have the opportunity to witness God's presence in human life through the first independent breath a baby takes, as well as through the last earthly breath a human takes.
"Today, celebrate the person God has made you to be, the evidence that he is a good God, and rejoice in your accomplishments," she said.
Following the address, seniors Brandy Moore, Kelsey Sorensen and Alex Whelan offered a musical reflection. Graduates were pinned by Bolhouse and given a single yellow rose by Dawn Westbrook, assistant professor of nursing.
Dr. Jasmin Johnson, associate professor of nursing, delivered the charge to the students. She concluded her charge with a blessing found in Scripture: "The Lord bless you and keep you; the Lord make his face shine on you and be gracious to you; the Lord turn his face toward you and give you peace" (Numbers 6:24-26, NIV).
The ceremony included an invocation by Dr. Claudine Dickey, dean emerita of the College of Nursing and adjunct professor in the OBU Graduate School; a welcome from Dr. David W. Whitlock, president of OBU; and a benediction by Dr. Glenn Sanders, professor of history.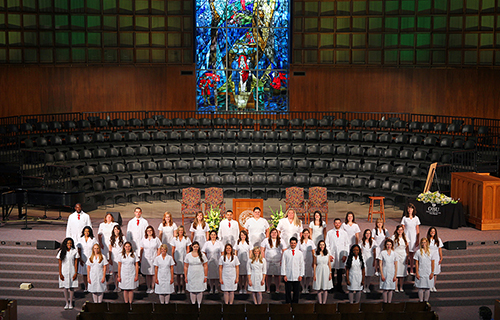 Nursing seniors who received their pins included: Olumayowa Taiwo Akinyode, Grand Prairie, Texas; Deborah Lauren Alt, Shawnee, Okla.; Kassidy Anglin, Kirkland, Wash.; Cailey DeLayne Barron, Wichita Falls, Texas; Emily Kay Blackwell, Chandler, Okla.; Mackenzie Diane Borden, Oklahoma City; Mollie Anne Butner, Seminole, Okla.; Barrett Ray Cook, Shawnee; Leanne Elizabeth Craig, Riverside, Calif.; Mojolaoluwa D. Davies, Houston, Texas; Brittany Elizabeth Delaney, Quinlan, Texas; Paige Eversole, Fort Worth, Texas; Victoria Elaine Fowler, Carrollton, Texas; Elissa Garbiso, Katy, Texas; Brittani Mikal Harmon, Houston; Sarah Ruth Heald, Oklahoma City; Sarah M. Heilaman, Bethel Acres, Okla.; Elizabeth Ann Hensley, Sallisaw, Okla.; and Nicole Brooke Holcomb, Tulsa, Okla.
Also receiving their pins were Hannah Beth Irwin, Rogers, Ark.; Joseph Benjamin Keleher, Huntington Beach, Calif.; Amy Elizabeth McCarthy, Tulsa; Brandy Niccole Moore, Mansfield, Texas; Jennifer Michelle Morales, Dallas, Texas; Tolani Adeyemi Olabode, Grand Prairie; Michelle Kaylene Peters, Shawnee; Jonathan Curtis Phillips, Exeter, Calif.; Rachel Maria Piston, Siloam Springs, Ark.; Jennifer Lauren Plett, Broken Arrow, Okla.; Naman K. Sharma, Shawnee; Autumn Rose Simms, Shawnee; Alma Marie Skelton, Shawnee; Kelsey Mariah Sorensen, Gunnison, Colo.; Sydney Lorraine Sutton, Broken Arrow, Okla.; Paige Elizabeth Terry, Enid, Okla.; and Alexandra May Whelan, Parachute, Colo.