OBU Commissions Students for Summer Missions Service
May 2, 2013
Representing plans to share the Gospel of Jesus Christ in Oklahoma, across the United States and around the globe, OBU students participated in a Global Outreach Commissioning service Wednesday, May 1, in Raley Chapel's Potter Auditorium.
Students, staff from OBU's Spiritual Life office and OBU President David W. Whitlock led a service of worship, biblical message and prayer as the OBU community prepares to conclude the spring semester and engage in summer missions endeavors. Odus Compton, director of student ministry, presented a message based in Isaiah 62 highlighting God's heart for all people; Christian believers' opportunity to intercede on behalf of others; and God's command for Christians to share the good news of his love with others.
The Scripture passage in Isaiah 62:1 begins with God declaring he will not be silent or quiet, but rather that he will continue to announce his love for all people until it is known throughout the world. In Isaiah 62:4-5, the prophet Isaiah conveys God's heart: "You will no longer be called Deserted, and your land will not be called Desolate; instead, you will be called My Delight is in Her, and your land Married; for the Lord delights in you, and your land will be married. And as a groom rejoices over his bride, so your God will rejoice over you" (HCSB).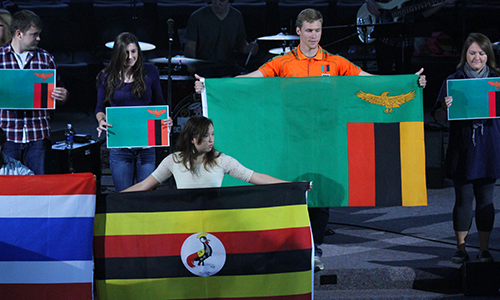 Compton told students about his wedding nearly 25 years ago. He could see his bride walking down a staircase, and with the lights in the church, he said she appeared to be floating on air. He waited expectantly for his beautiful bride, delighting in her both that day and continually since then. God's Word, Compton said, explains that God feels the same way about his people: he waits expectantly for all people to realize he loves them and wants to save them from a desolate life.
"Do you realize that God chooses us?" Compton said. "God puts his name upon us, and he calls us by name. He makes us his own, much like a groom rejoices over his bride. Oftentimes, we think we just worship God, but just allow it to settle upon us this morning that God rejoices over us. He celebrates his children. He has been doing that from all eternity, beckoning us."
Compton said early in Isaiah's ministry, he was confronted by a holy God. The experience not only marked him, it changed his life.
"That's the hope we're all destined for and desperately need -- to be valued, to be considered of worth, to be honored," Compton said. "It's something we all strive for, and yet it's something God has freely given to us, offered to us and provided for us."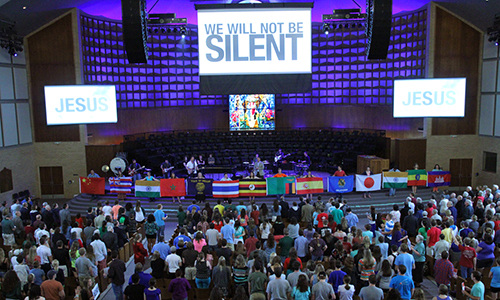 In Isaiah 62:6-9, the Scripture talks about watchmen who guard the city of Jerusalem until God's work is finished. Similarly, Compton said, Christians today are assigned the task of being "watchmen" over fellow believers who are engaging in God's work.
"God has called us to stand as watchmen and not lose heart," Compton said. "For these that are going and others who are going, it is our privilege and responsibility to not 'step off the wall' but to 'stand on the wall' in their behalf and to cry out for them. There are saints here who have labored and have served around the world and given their lives who need our prayers. Others that are consistently, constantly now serving around the world need us to 'stand on the wall' -- the privilege that we have to agree with them to pray."
Compton pointed out blue cards laying on the steps of the chapel's stage. He invited members of the OBU community to take the cards at the conclusion of the service as a sign of commitment to pray for the person named on the card.
The Scripture passage closes in Isaiah 62:10 with a command to "Go out, go out through the gates; prepare a way for the people!" with a clear message: "Look, your salvation is coming." The result of going, Isaiah 62:12 says, is that believers "will be called the Holy People, the Lord's Redeemed."
"We have a message now that we have the privilege and the opportunity to take to the very ends of the Earth, to declare to the daughters and the sons of all nations, of all peoples, that there is a God that has chosen them … (and) that has invited them to know Him," Compton said.
The number of people who have no faith in God and those who have no opportunity to hear the good news of Jesus Christ is great, Compton said. He said if a person lined up those people and simply said the name "Jesus" to each person for 24 hours a day and seven days a week, it would take the person 180 years just to speak the name "Jesus."
"You can't lose heart, the need is too tremendously great," he said. "Oh, might we be found faithful to the task and that -- like God, and like those who stand on the wall and pray and like those who go to the end of the Earth -- we would not be silent."
During a closing worship song, students, faculty and staff filed down the stage bearing the flags of the states and countries where they will serve during the summer. Dr. Whitlock asked those in attendance to stand near a person going out on mission and pray for them as they prepare to go. Whitlock led by verbalizing a prayer of commissioning.
Many of the missions endeavors represented in the service are facilitated by OBU's Avery T. Willis Center for Global Outreach. The GO Center unifies OBU's efforts to provide academic study and hands-on cross-cultural experience related to international ministry. It is a nexus for campus activities and outreach training, led by Dr. Bruce Carlton, director of the GO Center, and Dr. Joy Turner, director of global mobilization.