Intramurals Crowns King and Queen
May 9, 2013
Culminating an academic year filled with recreational sports competitions, the McDowell Family Intramural Program at OBU crowned its annual king and queen Monday, May 6. Shannon Griffith, a senior from Parker, Colo., was named queen, and Cody Potter, a senior from Miami, Okla., was crowned king.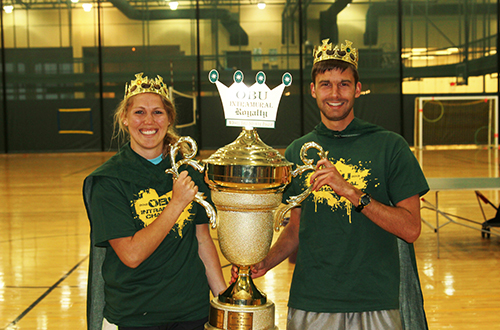 As a sophomore, Potter also was crowned king in the program's first royalty competition in 2011.
As students participated in intramural sports throughout the 2012-13 academic year, they earned points to be eligible to compete for the crown. The top male and female point earners competed in a variety of activities to determine the royalty. Competitors for king included Parker Goforth, Colin Metcalf, Caleb Sanders, Matthew Gilstad, Shane Eversole, Jordan Robinson, Blaine Kilinc, Kyle Colvin and Hayden McAfee. Competitors for queen included Juliana Leppke, Joy Quary, Amanda Lancaster, Taylir Ross, Paige Whitson, Kelsi Lancaster, Anna Jones, Lexi Masters, Hannah Madison and Courtney Buchanan.
The McDowell Family Intramural Program attempts to offer recreational sports opportunities for students, faculty and staff on the OBU campus. Annually, more than 600 members of the OBU community participate in some form of team or individual sports activity through the program.