Gilmore Receives Meritorious Service Award
May 29, 2013
Dave Gilmore, electrical and mechanical trades supervisor at OBU, received OBU's Meritorious Service Award during the university's Spring Commencement May 17.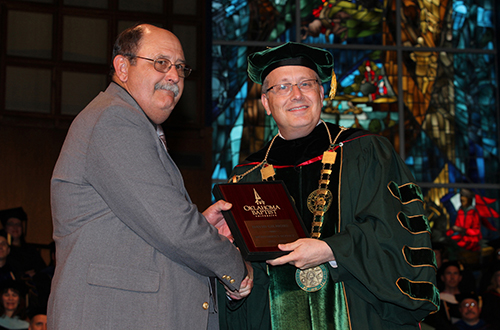 OBU President David W. Whitlock announced the award for Gilmore, who joined the OBU staff in 1987, during the graduation ceremonies before an overflow audience of more than 1,800 in the university's Raley Chapel.
The Meritorious Service Award is presented annually to a faculty or staff member who has made a substantial commitment of years, service, and who has been a loyal and faithful faculty or staff member.
In presenting the award, Whitlock lauded Gilmores's service to OBU, noting Gilmore can be the most popular man and the least popular man on campus, since he controls the university's air conditioners and heaters.
"Oklahoma weather fluctuations are his nemesis," Whitlock said. "He rises at 4 a.m. every morning, even when not on duty, to check the temperature reports from each building. Technology has progressed to the point where he can review temperatures and adjust the system from his cell phone.
"I understand that his dedication extended to Easter Sunday morning. As he was worshiping in his Tecumseh church, he double-checked the temperature for those worshipping in Potter Auditorium. Our recipient clearly devotes himself to keeping the environmental comfort of our students and staff his top priority while leading a dedicated crew of electricians, plumbers, HVAC (heating, ventilation and air conditioning) and general maintenance staff."
Each year at Spring Commencement, OBU presents three important awards to recognize quality teaching and faithful, productive service: the Promising Teacher Award, the Meritorious Service Award and the Distinguished Teaching Award. Nominations for the awards are made by alumni, current students, faculty and administration. In addition to public recognition and a token of the university's appreciation, the recipients receive cash awards provided by OBU graduates John and Janet Hudson of Edmond, Okla.