Yuan Tells Students: 'I Chose God'
April 4, 2013
Christopher Yuan was the king of his world -- a future dentist fueled by money, fame, drugs and sex -- until he lost his freedom, health and happiness, driving him to seek solace with God. And in the midst of his struggle, Yuan's mother found her own salvation.
Yuan shared his life story with Oklahoma Baptist University students during a weekly chapel service Wednesday, April 3, in Raley Chapel's Potter Auditorium.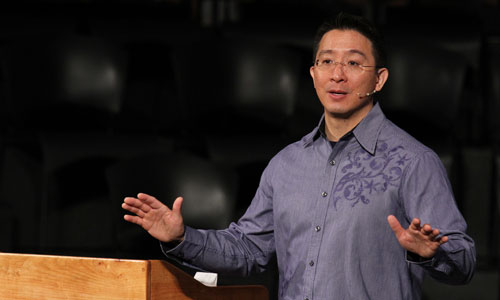 An American-born son of Chinese parents, Yuan was raised in an upper middle class home in the Chicago suburbs. He fulfilled the traditional values of his family: He obeyed his parents, he did well in school, and he practiced piano. From a young age, he was viewed as effeminate. After he graduated high school, completed a stint in the U.S. Marines and arrived in dental school in Louisville, Ky., he announced to his parents he was gay.
Yuan said his announcement came at a difficult time for his parents, who had begun paperwork for divorce. In despair of her son's homosexuality and her failing marriage, his mother, Angela, resolved to end her own life. Although she was not a religious person, she visited a minister, who gave her a pamphlet about homosexuality. She bought a one-way train ticket to Louisville, carrying only her purse and the pamphlet; at the conclusion of her visit to tell her son good-bye, she planned to commit suicide.
On the train, Yuan's mother read the pamphlet, which included a message about how a person can accept Jesus as his or her personal Savior: that despite every person's sin, the God of the universe still loves each person.
"God opened up the eyes of her heart to see that just as God could love her in spite of her sin, she could love me, her gay son," Yuan said. "My mom had expected to go to Louisville to end her life, and in reality, she did. One of her favorite verses today is Galatians 2:20: 'I have been crucified with Christ, and I no longer live, but Christ lives in me.'"
Yuan's father also accepted Jesus as his personal Savior. Yuan said their developing faith prepared them to help their son, who immersed his life into the world of homosexuality. He went from gay club to gay club, seeking intimacy but feeling unsatisfied. He began experimenting with drugs, but as a dental student, he didn't have much money, so he supported his habit by selling drugs.
"I actually thought I could balance these two lives, being a graduate student by day and a promiscuous drug dealer by night," Yuan said.
However, the administration expelled him three months before he was scheduled to receive his doctorate. His parents traveled from Chicago to meet with the dean, but to his surprise, his mother did not fight for his degree. Rather, she said, "It's not important that Christopher becomes a dentist. What's more important is that Christopher becomes a Christ-follower."
In anger, he moved farther away from his parents to Atlanta, Ga., where he would have multiple anonymous sexual encounters every day.
"According to the world, I had it all: money, fame, drugs, sex," Yuan said. "I had exchanged the truth of God for a lie. I began worshipping and serving the creature rather than the Creator because, in my world, I had become god."
Yuan's parents continued to reach out to their son. They prayed for him, and they enlisted more than 100 people to continue praying for their son's salvation. They sent him encouraging, inspirational messages and cards. They visited, and when Yuan kicked them out, his father left his first Bible for his son, who immediately threw it into the trash.
"I wanted nothing to do with God, nothing to do with their new-found religion and certainly nothing to do with the Bible," Yuan said. "After that visit, it was more than obvious to my parents that I was totally unreachable and completely hopeless."
His parents chose not to focus on the hopelessness of their unreachable son. His mother asked God to do whatever it would take to bring her son to God. Yuan continued to reject his parents until he was forced to make a call home one day. His home had been raided by 12 federal drug enforcement agents and Atlanta police who confiscated a shipment equivalent to the street value of 9.1 tons of marijuana. He faced 10 years to life imprisonment.
In jail surrounded by criminals, Yuan saw a can of garbage and thought how it reflected the state of his life. Laying on top of the trash, he picked up a small book -- a Gideon New Testament Bible -- and decided to read it to help pass the time. He read through the Gospel of Mark, and God began a slow transformation of Yuan's life.
"What we have in our Bibles is not just ink and paper," Yuan said. "What we have in our Bibles, beloved, is the very breath of God. And it is living and powerful and sharper than any double-edged sword, and it cut through my hardest of hearts, exposing my sin, my rebellion, and it wasn't a pretty sight. I thought things couldn't get any worse. I was wrong."
On a visit to the prison nurse's office, she slid a piece of paper across the table bearing three letters and a symbol: HIV+. Yuan's prison sentence was six years, but his HIV-positive status felt like a death sentence. Laying on a prison bunk, he saw scribbled on the bunk above him: "If you're bored, read Jeremiah 29:11."
The Scripture passage says, "'For I know the plans I have for you,' declares the Lord, 'plans to prosper you and not to harm you, plans to give you hope and a future.'"
"At the most hopeless point in my life, God was using the words penned by a prophet thousands of years ago to a rebellious nation to tell me that, regardless of who I was and what I had done in the past, he still had a plan for me," Yuan said.
Yuan's life change was gradual. He spent time while incarcerated scouring the Scripture for justification of his homosexuality, but he could not find a single biblical verse supporting his actions. He arrived at a turning point: either he would abandon God, or he would follow Jesus Christ and live according to his understanding of Scripture.
"My decision was clear and obvious," Yuan said. "I chose God."
Yuan completed his sentence, which was reduced to three years. God continued to work in his life, completing the transformation from prisoner to professor. He graduated from Moody Bible Institute in 2005 and Wheaton College Graduate School in 2007 with a master of arts in biblical exegesis, and he currently is pursuing a doctorate of ministry at Bethel Seminary. Along with his mother, he is the co-author of "Out of a Far Country: A Gay Son's Journey to God, A Broken Mother's Search for Hope."
Visit Yuan's website to read more about his story and his ministry.