Wolff Reads from 'Old School'
April 25, 2013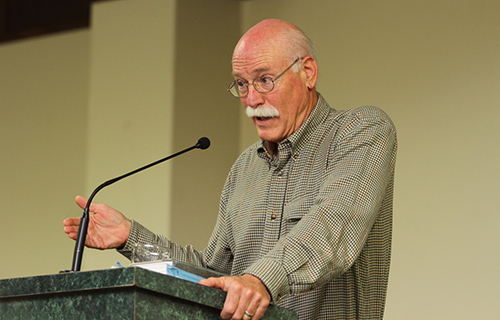 Author Tobias Wolff reads from his book "Old School" in OBU's Geiger Center on Thursday, April 25, as part of the Pioneer Library System's Big Read program. The event was co-sponsored by the OBU English Department and the library.
The Big Read is a program of the National Endowment for the Arts (NEA) in partnership with Arts Midwest. The program is designed to revitalize the role of literary reading in American popular culture.
Wolff teaches English and creative writing at Stanford University, where he holds the Ward W. and Priscilla B. Woods professorship in the School of Humanities and Sciences. Among his honors are the PEN/Faulkner Award for Fiction, the Rea Award for the Short Story and three O. Henry Awards.
To learn more about the Big Read program, visit the Big Read Web page.