Theatre to Present 'Evening of Southern Charm'
April 15, 2013
OBU Theatre will present "An Evening of Southern Charm: One-Act Plays by Southern Authors" April 25-27 in the Black Box Theatre in Sarkeys Telecommunication Center on the OBU campus. Tickets are now on sale.
The production features "Portrait of a Madonna," "Key Lime Pie" and "Blind Date." OBU Theatre will present the plays one weekend only: Thursday, April 25, at 7:30 p.m.; Friday, April 26, at 7:30 p.m.; and Saturday, April 27, at 2:30 p.m. and 7:30 p.m.
"Portrait of a Madonna," by Tennessee Williams, follows a deranged southern belle who is convinced the love of her life, who rejected her for someone else, visits her every night. This play is directed by Robert Mills, a senior theatre major from San Antonio, Texas.
"I took Dr. Wells' directing class and thoroughly enjoyed it," Mills said, referring to a course taught by Dr. Jeffrey Wells, OBU associate professor of theatre. "What I like most is the psychological process of getting inside the heads of all the actors and characters."
The cast of "Portrait of a Madonna" includes Lucretia Collins, played by Abbie Beeler, a sophomore theatre major from Tulsa, Okla.; Mr. Abrams, played by Michael Dunn, a freshman mathematics education major from Stroud, Okla.; The Nurse, played by Julie Studstill, a sophomore theatre major from Arlington, Texas; The Porter, played by Madison Daniel, a senior interdisciplinary major from Kingman, Ariz.; Elevator Boy, played by Antonio Quintana, a freshman theatre/applied ministry major from Oklahoma City; and The Doctor, played by Andrew Wright, a freshman creative writing major from Chiayi, Taiwan.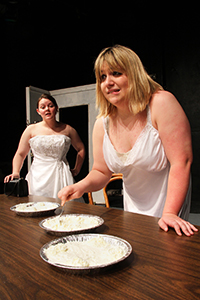 Sisters Tricia and Charlene, played by OBU students Sadie Barrett (left) and Bethany McWilliams, argue over a lost ring in OBU Theatre's production, "Key Lime Pie."
"Key Lime Pie," by Jason Milligan, tells the story of two squabbling sisters on a frantic crusade to track down s specific pie (that contains something precious) sold the day before at a small-town bake sale. This play is directed by JemiJean Jones, a senior theatre and family/community service major from Del City, Okla.
"I wanted to direct a one act [play] because directing is my passion and I was excited to direct one last play before I graduate in May," Jones said. "I have enjoyed the dynamic of working with experienced actors as well as new actors."
The cast of "Key Lime Pie" includes Tricia, played by Sadie Barrett, a senior theatre major from Greeley, Colo.; Charlene, played by Bethany Williams, a sophomore psychology: pre-counseling major from Shawnee, Okla.; Nurse, played by Greer Garland, a freshman digital arts media major from Carrollton, Texas; and Archibald Stoke, played by Brayden Lans, a sophomore psychology major from Fort Collins, Colo.
"Blind Date," by Horton Foote, is a touching and funny study of what happens when a fluttery, well-meaning aunt tries to arrange a date for her uncooperative niece. This play is directed by Jennifer Ezell, an OBU adjunct instructor of English, who recently earned her master's degree in theatre from the University of Missouri.
"I am from the deep South and grew up watching Horton Foote's best-known works, like 'Driving Miss Daisy,'" Ezell said. "He writes with keen truthfulness about this South, but it is also understatedly funny and heartwarmingly sentimental."
The cast of "Blind Date" includes Sarah Nancy, played by Hallie Riggins, a senior English major from Muskogee, Okla.; Dolores, played by Avery Ketchum, a junior theatre/anthropology major from Bixby, Okla.; Felix, played by Trevor Rodman, a freshman theatre major from Tulsa, Okla.; and Robert, played by Sherrod Donnelly, a senior political science major from Arlington, Texas.
Tickets are on sale for $10 for adults and $5 for students. The show is most appropriate for ages 12 and older. Located in Sarkeys Telecommunication Center, the OBU Box Office is open Monday-Friday from 9 a.m. to 4:30 p.m., or call (405) 878-2347.