The Glow From That Fire' to Feature Oklahoma Talent
April 8, 2013
The world premiere of "The Glow From That Fire," an original work composed by OBU professor James Vernon, will feature several talents from across Oklahoma, including soloist Rebekah Ambrosini and narrator John Holcomb. The premiere also will showcase original artwork by OBU artists.
The premiere is part of OBU's Oratorio Project concert, titled "Visions of Liberty," which also will feature "Let Thy Hand Be Strengthened" (Coronation Anthem for King George II, 1727) by Georg Frederic Handel and "Testament of Freedom" (with texts by Thomas Jefferson) by Randall Thompson. The concert is Tuesday, April 30, at 7:30 p.m., in Raley Chapel's Potter Auditorium. The performance is free and open to the public.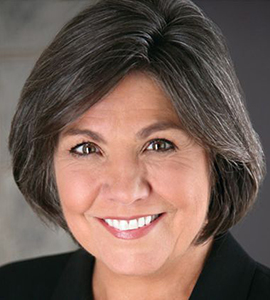 Rebekah Ambrosini
Ambrosini, who serves as associate professor of voice in Southern Nazarene University's School of Music, will be the featured alto soloist for "The Glow From That Fire." Ambrosini earned bachelor's and master's degrees from Oklahoma City University. She has served on the voice faculties of Molloy College, Oklahoma City University and the University of Oklahoma, where she also was a doctoral fellow. She was a regional winner of the Metropolitan Opera National Council Auditions and made her Carnegie Hall debut with Musica Sacra as the alto soloist in Mozart's "Requiem." The contralto has performed leading roles with the Virginia Symphony Orchestra; Buffalo Philharmonic Orchestra; Monterey Symphony; Classical Music Festival of Austria; Mormon Tabernacle Choir; National Symphony Orchestra of Taiwan; and is a regular solo artist with many major American Symphonies.
This spring, Ambrosini will sing Beethoven's "Symphony No. 9" with the Reading Symphony Orchestra of Pennsylvania. In October 2013, she will perform as soloist with the Tulsa Oratorio Choir in the Saint-Saëns "Requiem," then return to the Ft. Wayne, Ind., Symphony in December to perform Handel's "Messiah." In February 2014, she will sing alto solos in Mozart's "Requiem" with Symphony Orchestra Augusta, Ga. In addition to teaching and performing, she serves as a board member for Cimarron Opera in Norman, Oklahoma.
"It is my great honor to be a part of this inspiring work by Dr. James Vernon," Ambrosini said. "By linking the timeless Requiem Mass text with the optimistic, visionary JFK Inaugural Speech, Dr. Vernon connects the past and the future in a hopeful and universal doctrine of humility, courage and strength of conviction. This oratorio reminds us that both the Requiem Mass and JFK's words continue to hold profound meaning in our time. As a child of the 1960s, this work holds a special significance for me as a touchstone of my own patriotism."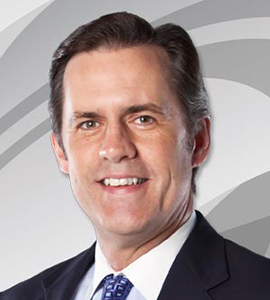 John Holcomb
Holcomb will perform the narration for "The Glow From That Fire." A 1988 OBU graduate, Holcomb is sports director of Tulsa's News On 6 sports team. He began his career at KOTV in 1995, and since 1999, he has anchored the weeknight sportscasts for The News On 6. He attended OBU on a basketball scholarship, graduating with a degree in journalism in May 1988. He has worked at KGFF in Shawnee; the Oklahoma News Network; KXII-TV in Sherman, Texas; KSWO-TV in Lawton, Okla.; and KFDA-TV in Amarillo, Texas.
Today, Holcomb is the radio color analyst for OSU football and the analyst for OSU men's basketball on the Cowboy Sports Network. He and his wife, Jeanna, have two daughters, Melody and Maggie, and are members of Cedar Ridge Christian Church in Broken Arrow, Okla.
"The narrator part to 'The Glow From That Fire' is very important to the overall structure of this piece of music," Holcomb said. "The readings gleaned from the Kennedy Inaugural Speech are visionary and bold, and promote the 'visions of liberty' this concert promotes. I am honored to be a part of the world premiere of this new work."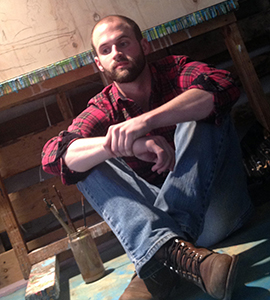 Lucas Simmons
Artists associated with OBU are creating a sequence of images -- some moving, some static -- to correlate with the movements of Vernon's piece. The artists involved in the project include Lucas Simmons, a 2012 OBU graduate; Corey Fuller, assistant professor of graphic design; and OBU students Diana Barns, Mary Corley, Molly Hennesy, Kody James and Daniel Valencia.
"Each student will be creating original artwork, collecting historical images from the Kennedy Presidency, shooting process video of the original works of art, and compiling all of that together into a cohesive video sequence," said Fuller, who teaches the students in a spring design course. "The balance is creating a visual space that correlates with and supports the music -- evoking Dr. Vernon's themes -- as opposed to creating a mere distraction."
The video will be shown on the side screens in Potter Auditorium during the concert. Fuller said he hopes to have some of the original work of the students on display in the lobby of Raley Chapel, and some of the pieces will be available for purchase at the event.
The OBU Division of Music historically presents The Oratorio Project featuring choral and orchestral works performed by the OBU combined choirs and orchestra. The goal of the Oratorio Project is to acquaint students with significant works from the Western canon while also contributing to the musical life of Shawnee and central Oklahoma.
Vernon composed "The Glow From That Fire" for mixed chorus, alto soloist, narrator and orchestra. Premiering in the 50th anniversary year of John F. Kennedy's assassination, Vernon took as his impetus the January 1961 Inaugural Address Kennedy gave on the steps of the U.S. Capitol. Vernon will direct his original work during the concert.
"Let Thy Hand Be Strengthened" and "Testament of Freedom" will be directed by Dr. Brent Ballweg, who serves as the Burton H. Patterson Professor of Music in OBU's Warren M. Angell College of Fine Arts, where he conducts the University Chorale and Bison Glee Club. He also teaches courses in conducting, choral procedures and choral literature. Previously, he held college and university conducting positions in Oklahoma, Texas, Arkansas, Arizona and Missouri. He has served as the artistic director and conductor of the Plano (TX) Civic Chorus, assistant director of the Kansas City Symphony Chorus, and founder and director of the Northeast Arkansas Chorale. A 1978 OBU alumnus, Ballweg holds graduate degrees from Southwestern Baptist Theological Seminary and the University of Missouri-Kansas City Conservatory of Music.
For more information about OBU's Oratorio Project concert, "Visions of Liberty," including the world premiere of "The Glow From That Fire," contact the OBU Division of Music at (405) 585-4301 or music@okbu.edu.