Strobel, Turner to Perform Recital April 16
April 9, 2013
OBU students Joylynn Strobel and Sarah Turner will perform their senior recital Tuesday, April 16, at 6 p.m. in Raley Chapel's Yarborough Auditorium. The community is invited to attend.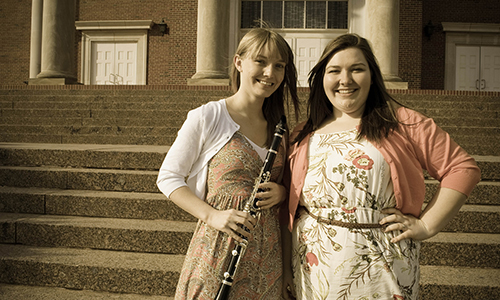 During the performance, the students will be assisted on piano by Dr. Keith Whitmore, staff accompanist, and Dr. Sandra Meyer, staff accompanist and retired associate professor of music.
The recital will include works by Mozart, Schubert, Debussy, Hogan, Leoni and Kingsley, performed by Strobel, as well as works by Tartini, Schumann and Templeton, performed by Turner.
Strobel, a soprano from Brownstown, Ill., is a worship arts major with a minor in children's ministry. The daughter of Greg and Angie Strobel, she is from the studio of Dr. Louima Lilite, assistant professor of music. During her time on Bison Hill, Strobel has been named to the President's Honor Roll. She is the librarian of the Bisonettes, OBU's women's glee club. Following graduation, she plans to begin a career in church ministry in Rockwall, Texas.
Turner, who plays clarinet, is an instrumental music major from Newalla, Okla. The daughter of Larry and Susan Turner, she is from the studio of Dr. Christopher Neal, assistant professor of music. At OBU, she has been named to the OBU President's Honor Roll and Dean's Honor Roll. Turner is a member of the Bisonettes, OBU Symphonic Winds, National Association of Music Educators and Professional Oklahoma Educators.
The audience is cordially invited to a reception in Raley Chapel Room 142 immediately following the recital.