Profile in Excellence: Mark Johnson Builds Success on Fundamentals
April 1, 2013
Editor's Note: Oklahoma Baptist University alum Mark Johnson, a 1982 graduate, is a 2013 recipient of the OBU Alumni Association's Profile In Excellence Award. The award is given to a former student who has "demonstrated recognizable accomplishment in his or her profession, business, avocation, or life service in such a way as to bring pride and honor to the University." Each year, Profile In Excellence recipients are featured in OBU Magazine.
Mark Johnson, a 1982 OBU graduate, is the vice president for marketing at Veritas Entertainment in Franklin, Tenn., where he engages in the challenge of creating quality movies with a Christian worldview.
"Three words that describe our purpose best are courage, character and conviction," Johnson said. "Within this framework, we hope to provide alternatives to the great majority of Hollywood films which do not have a godly message or are not appropriate for all family members."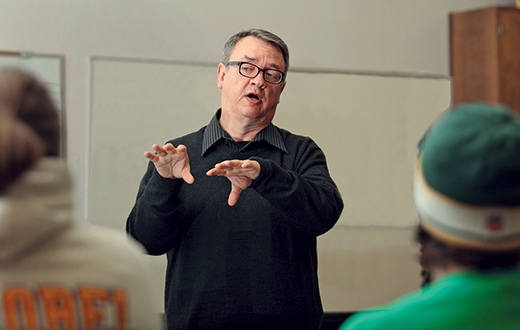 Johnson said the employees of Veritas believe that attending a theater film is the only "pulpit" by which many people will ever receive a redemptive message.
"Our goal is to make captivating stories and character studies which describe a loving and caring God," he said.
After graduating from OBU, Johnson earned a master's degree in music composition from the University of Oklahoma. He served on the music staff at First Baptist Church in Carrollton, Texas, from 1987-96 before becoming a consultant, editor and editor-in-chief in the Music and Worship Department of LifeWay Christian Resources in Nashville, Tenn. Throughout his career, Johnson has found opportunities to work with studio, professional, amateur and student musicians in a variety of instrumental and choral groups and projects.
Since 2006, he has worked as a freelance music composer, orchestrator, conductor and music programmer, assuming his role at Veritas in 2012. His wife, Lisa, is a graphic artist and Web designer, and their two daughters, Anna and Lara, are college students.
Johnson identified several OBU professors who helped prepare him for a lifetime of work and ministry.
"All of my music studies transferred directly to my work with films, where the storytelling tools now include not only music, but acting and visual images," he said. "My OBU experience prepared me to discern what film elements are working well and which elements need to be developed to provide the most convincing message."
As a member of the University Chorale under the direction of Dr. James D. Woodward, Johnson experienced innumerable teaching moments where the dean would use practical applications for style, performance, rehearsal techniques, vocal production and team building.
"This was the group that formed many great musicians from OBU and had the largest impact on me," Johnson said. "I compare the success of all groups I lead or participate in to the Chorale experience."
Others who greatly influenced Johnson include Dr. Nancy Cobb Lippens, "a composition teacher, encourager and enabler," and piano teacher Dr. Robert Wood. The classes of Dr. Wiff (Wortley) Rudd, an orchestration and jazz band instructor, provided the basis for Johnson's instrumental work. Mary Kay Parish and Katherine Timberlake taught him music theory, sight singing and ear training.
"At the time, the fundamental building blocks they taught seemed much more academic than practical," he said of the music theory lessons. "But in real life music experiences, these tools are used in every rehearsal I have ever directed, every student and professional musician I've worked with, and every critical decision regarding music selection and placement. Their patience with students was overwhelming as was their ability to challenge, and hopefully this continues on through the musicians I work with."
Click the following link to view a full list of previous Profile in Excellence recipients.