Opera Theater Opens 'Street Scene' April 19
April 16, 2013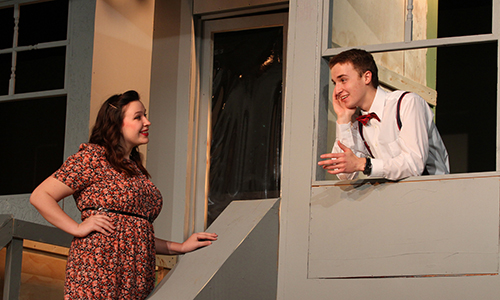 Rose Maurrant and Sam Kaplan excitedly discuss their future in OBU's Opera Theater production of "Street Scene." The opera tells the tragic story of life and love in the tenements of New York during the sweltering summer of 1946. Rose is played by Bailee Rogers, a sophomore from Bixby, Okla., and Sam is played by Benjamin Hopkins, a sophomore from Pawhuska, Okla.
Performances will run Friday and Saturday, April 19-20, at 7:30 p.m. and Sunday, April 21, at 2:30 p.m. in Craig-Dorland Theatre, located in OBU's Shawnee Hall.
Tickets are $10 each. To purchase advance tickets for "Street Scene," call (405) 585-4350. Tickets also will be available at the door.