OBU Opera Theatre to Premiere 'Street Scene' April 19
April 3, 2013
The tragic story of life and love in the tenements of New York during the sweltering summer of 1946 will be brought to the stage of OBU's Craig-Dorland Theatre April 19-21. Tickets are on sale for OBU Opera Theater's production of "Street Scene."
OBU Opera Theater will present the production Friday and Saturday, April 19-20, at 7:30 p.m. and Sunday, April 21, at 2:30 p.m.
According to Dr. Mark McQuade, director of the production, Kurt Weill's beautifully crafted opera, "Street Scene," was hailed as "a musical play of magnificence and glory" by The New York Times. A critic for the Chicago Daily News remarked that "Street Scene" is "as much an American opera as 'Porgy and Bess,' and I don't hesitate in the least to rank it just as high as the Gershwin classic."
This production by the OBU Opera Theater will feature current students, faculty, alumni and a special guest artist, Canadian baritone Chad Armstrong. Armstrong is a former member of the Tulsa Opera apprentice program and is now enjoying an international career as a Verdi baritone.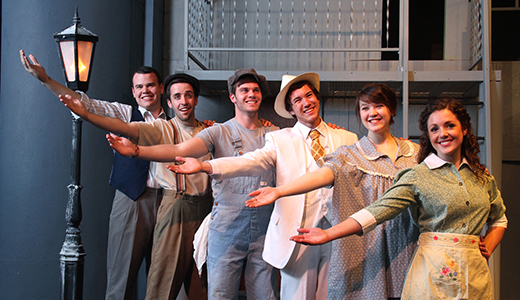 OBU students featured in the production include Sammy Andrews, Andrew Barker, Jose Carrillo, Brock Cherry, Josh Claibourn, Melanie Clanton, Blake Compton, Michelle Compton, Haylee Dowler, Christin Fairchild, Ariel Hawkins, Jarod Haynes, Zachary Hendrickson, Benjamin Hopkins, Courtney King, Sara Martin, Carson Misner, Bailee Rogers, Nathan Sanders, Davis Simmons, Kaitlin Slothower, Sarah Stephens, Sarah Thompson, Breana White, Christin Woodall, Braden Young and Elizabeth Youngblood.
Tickets are $10 each. To purchase tickets to the OBU opera production of "Street Scene," call (405) 585-4350.