OBU Hosts Hyde Park Day, Moser Elected President
April 12, 2013
OBU's Student Government Association hosted Hyde Park Day during chapel Wednesday, April 10. The annual event is designed to introduce candidates for student government elected positions and class officer positions.
After the presentation of speeches, students were encouraged to vote for their preferred candidates online by following a link sent through OBU email.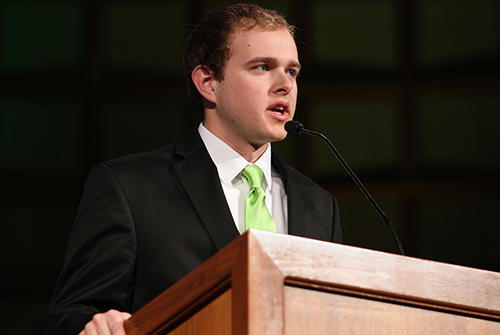 Cody Moser, a rising junior from Noble, Okla., was elected Student Government Association president. He ran unopposed. Kim Powell, a rising senior from Oklahoma City, was unopposed for SGA vice president of internal affairs. Erin Tresch, a rising senior from Tulsa, Okla., was reelected as SGA vice president for external affairs. She also ran unopposed.
For chapel messages, follow this link.
Seniors elected as Student Government Association senators include Tane Webb from Hollis, Okla.; Amanda Vinsant from Jacksonville, Ark.; and Paul Inman from Okarche, Okla. Junior senators include Karleigh Schrick from Montrose, Colo.; Megan Stein from Broken Arrow, Okla.; and Parker Hunt from Cypress, Texas. Sophomore senators include Lucas Adams from Oklahoma City; Jordan Fraser from Okemah, Okla.; and Nikki Kennemer from Oklahoma City.
Students elected to class offices include Elizabeth Norrie, senior class president, from Enid, Okla.; Holly Westmoreland, senior class vice president, Clinton, Okla.; Grant Collins, junior class president, Yukon, Okla.; Kalyn Baker, junior class vice president, Sallisaw, Okla.; Nathan Roach, sophomore class president, Wichita Falls, Texas; and Travis DeWall, sophomore class vice president, Enid.
Freshmen class elections for president and vice president are conducted in the fall semester after incoming students have an opportunity to familiarize themselves with the campus community.
Between candidate speeches presented during the chapel service, Neal Ellis, current SGA president, and Kristen Thompson, SGA vice president of internal affairs, presented OBU's "Seven Who Care" awards to seven faculty and staff members honored for their contributions to the campus community. The Seven Who Care Award is given to faculty and staff members based upon nominations by students, faculty and staff.
This year's Seven Who Care winners include: Dr. Brian Camp, professor of family science; Stephanie Cash, secretary, College of Nursing; Dr. Bruce Carlton, director of the Avery T. Willis Center for Global Outreach and professor of cross-cultural ministry; Dr. Eileen Hargrove, professor of mathematics; Dr. Vickie Shamp Ellis, associate professor of communication arts; Cory Miller, OBU mailroom; and Dr. Kristen Stauffer Todd, chair, OBU Division of Music and professor of music and humanities.
Hyde Park Day was instituted at the university in 1958 after Dr. John W. Raley, then OBU president, visited Hyde Park in London, England. At "Speakers' Corner" in Hyde Park, anyone may set up a soap box and lecture all those in earshot on any topic. Spectators then are allowed to question the speaker. When the event started at OBU, based on the idea of free oratory, SGA candidates would gather in the Quadrangle on campus, set up "political booths" and vie for students' votes.