McQuigg to Perform Flute Recital April 22
April 12, 2013
OBU student Chelsea McQuigg will perform her senior recital Monday, April 22, at 7:30 p.m. in Raley Chapel's Yarborough Auditorium. The community is invited to attend.
McQuigg is a musical arts major from Miami, Okla., with a minor in psychology. The daughter of Lisa McQuigg and Alan and Sara MgQuigg, she is from the studio of Nancy Stizza-Ortega, adjunct instructor of flute. During the performance, McQuigg will be assisted by Sandra Meyer, staff accompanist and associate professor of music, on piano; Terry Banks, a junior music education major, on guitar; and Stizza-Ortega on flute.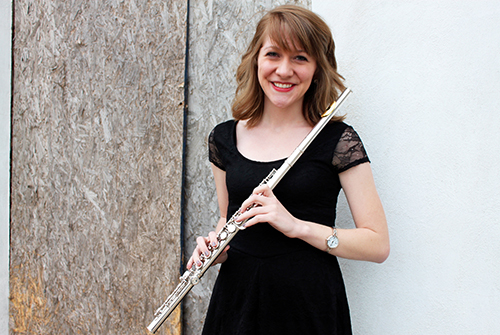 The recital will include works by Marais, Cimarosa, Kennan, Debussy, Clarke and Enesco.
During her time on Bison Hill, McQuigg has been a four-year member of Symphonic Winds, a four-year member of the Bisonette Glee Club, and a three-year member of University Concert Series. She has participated in Flute Choir and the OBU/Shawnee Community Orchestra. She has been named to the President's Honor Roll and the Dean's Honor Roll. She is a member of the Oklahoma Flute Society and an advocate for Project Safe.
She appeared as a 2011 Concerto-Aria Concert competition soloist, performing "Andante for Flute in C Major" by Wolfgang Amadeus Mozart, and a 2013 Concerto-Aria Concert competition soloist, performing "Serenade for Flute, Harp, and Strings, Op. 35" by Howard Hanson. She received the 2012 Music History Research and Writing Award for "Lizst's Depiction of Faust, Gretchen, and Mephistopheles in Goethe's Faust." She performed in the pit orchestra for Lyndsy Perkins' ballet, "Breaking Shackles," and for the OBU Opera Theatre production of "Brigadoon."
McQuigg is a member of Alpha Mu Gamma, Mortar Board and Psi Chi honor societies. She has received numerous scholarships, including the Catherine Mae Bardwell Memorial Scholarship, the William James Brown Scholarship, and the Warren M. and Evalyn Wells Angell Endowed Music Scholarship.
Following her graduation in May, McQuigg plans to attend Texas Woman's University to earn certification and master's degrees in counseling and music therapy.
The audience is cordially invited to a reception in Raley Chapel Room 142 immediately following the recital.