Gala Featuring Dungy Benefits Student Scholarships
April 10, 2013
Bolstered by inspiring words offered by Tony Dungy, alumni and friends of OBU gathered to raise money to benefit student scholarship funds during OBU's first Green and Gold Gala Tuesday, April 9, at the Tulsa Convention Center.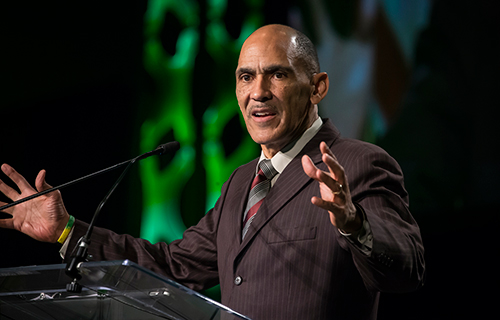 The gala offered an opportunity for benefactors to provide an affordable Christian liberal arts education for tomorrow's college students while receiving a message from a renowned leader, said OBU President David W. Whitlock. John Holcomb, a 1988 OBU graduate and sports director of Tulsa's News On 6 sports team, served as the emcee of the event.
Nearly 300 people gathered to hear Dungy, a historic Super Bowl-winning head coach, give a speech titled "Motivating the Spirit." Off the field, he is renowned for his contributions to the community -- both civic and charitable. He is focused on his faith and the value of education, and shared his thoughts on how both can help make a difference in the lives of young people and the future of the country.
"Our country has a lot of things we need right now, but I think one of the biggest things we need is to develop our young people, to develop our leaders of the future and to help them reach their potential in life," Dungy said. "Even though I coached football for 28 years, I didn't think my job was to just win games. I thought it was to help my players grow as people. That was really more important to me than winning Super Bowls. I always said at the start of every year when we would get our group of new men in, I wanted to see them develop in four ways. I wanted to see them develop athletically, academic, socially and spiritually."
Dungy spoke to both students and adults in the audience saying that people are quick to point out the problems in our country as being drugs, violence or education.
"But those aren't really the problems in my opinion" he said. "They are kind of the symptoms. The major problem is a cultural problem. It's really the messages that we are sending to our young people about making decisions and about what's important in life and what they should be looking for in life. The question comes down to what we are going to do to change that and what we can do to change that. That's what tonight is all about. It's about making a difference all over our country. But we can start by making a difference right here."
Dungy told students to have high expectations for their lives and to be leaders instead of followers by staying in school, avoiding alcohol and drugs, choosing to do the right things even if it is difficult and listening to the right people who really care.
Dungy encouraged adults to be available to provide guidance, time and support for young people. Citing people in his life that were positive influences to him, he asked the group to go above and beyond just doing their jobs and to become role models and positive examples in the lives of young people.
"God has put us in places and we don't know why all the time. More often than not, it's because He expects us to impact not only the place where we work, but our neighborhood, our city and indirectly our country," Dungy said. "If we're going to make the future better for the next generation, it's going to take all of us and it won't be easy. But one of the things it's going to take is young leaders with the right kind of education and that's really why we're here tonight.
"Many of these young people would not be able to attend OBU if it weren't for generous donations and scholarships. We've got a chance to do something special. These kids can come here and they can get the right answers -- not just education, not just book smart but the real answer -- which is knowing the Lord and applying His principals into the workplace. If we do that, we can make a difference in the quality of life, not only here in Oklahoma but all over the country. Let's give some worthy students a chance to grow, a chance to develop, a chance to be leaders. Dig a little deeper, go a little farther, because our country really needs it."
Whitlock said OBU administrators plan to host the Gala as an annual event focused on enlarging the pool of scholarships available to students.
"With the increase in the number of students we serve, there is a correlated increase in the amount of scholarships we provide," Dr. Whitlock said. "We strive to help every student who wants to attend OBU obtain the financial resources they need to do so. We endeavor to break down any financial barriers that might exist so that no student is unable to follow God's call to OBU. Much of the financial aid we give to students has been made available through scholarships that many of you have provided. It is because of you that lives continue to be transformed on Bison Hill."
The platinum-level sponsor of the Gala was Pelco Structural, LLC, and the premier-level sponsor was Sodexo, Inc. Gold-level sponsors included the Baptist Foundation of Oklahoma and BioMaterials of Oklahoma. Green-level sponsors included the Adams Foundation; Bank of Oklahoma; CJC Architects, Inc.; Evergreen Baptist Church; and SP Marketing, in memory of Jackie Wilks. White-level sponsors included Asbury United Methodist Church; BancFirst; Baptist General Convention of Oklahoma; Bison Athletic Association; Fresh Ideas; INSURICA; Gibbs and Armstrong; Stan and Joy Norman; Will and Caroline Smallwood; and David and Dana Whitlock.
For information about giving to OBU, contact the Advancement Team at (405) 878-2703, or visit the University Advancement Web page to watch a video shown at the event.